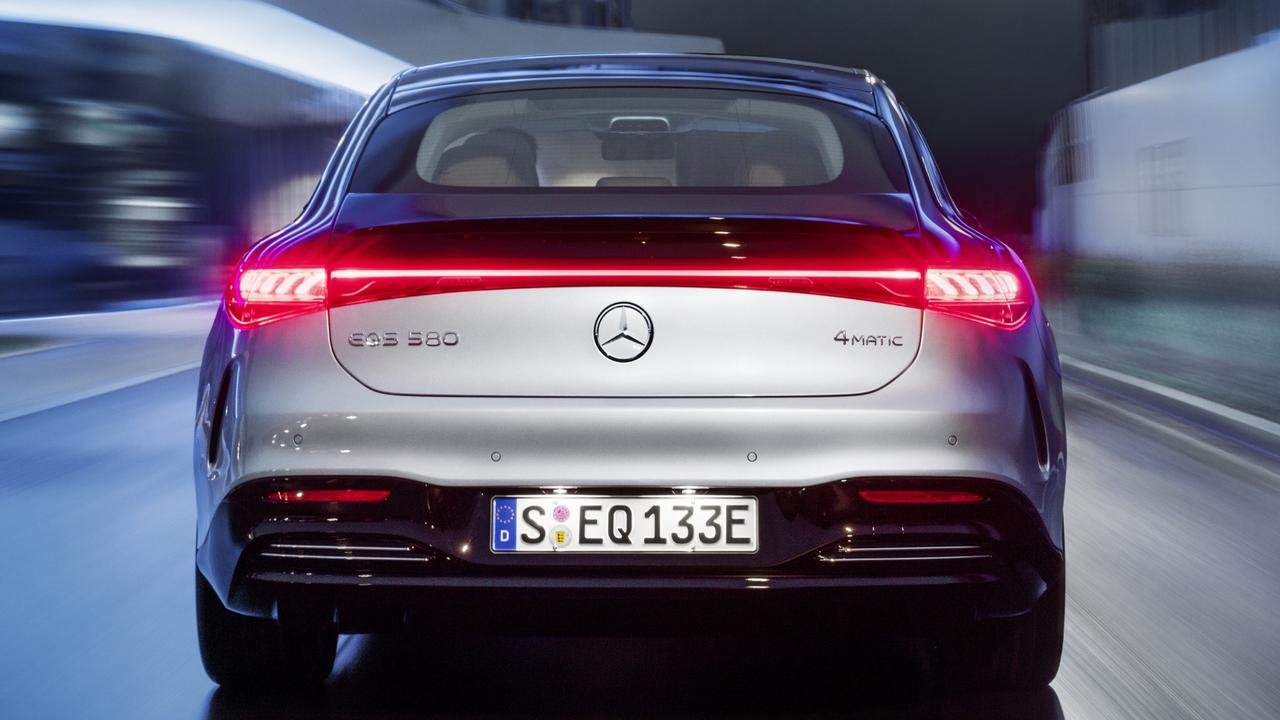 The German brand is about to score an own goal when its new high-tech top product beats its long-term leader.
You rarely see the flagship of a car manufacturer being sunk by friendly fire. But this is exactly what is happening at Mercedes.
For decades, large S-class cars have been the company's leader in comfort, quietness, luxury and safety, almost always first adopting various advanced technologies developed by the company.
It will soon be blown out of the water by the new EQS. This electric S-class equivalent model carries the badge of the company's pure electric sub-brand Mercedes-EQ.
EQS beats the similarly sized S-Class in terms of smoothness and silence. Its interior is more beautiful and the driving is more comprehensive.
Even for electric vehicles, the mileage of EQS is better than many internal combustion engine vehicles. Although charging is slower than refueling, when connected to a powerful DC fast charger, EQS will be able to increase the driving range by 300 kilometers in just 15 minutes.
Finally—this is a fatal blow—Mercedes-Benz stated that the pricing of the EQS series will be similar to the equivalent S-Class models. In other words, there should be no price penalty for choosing electric luxury cars instead of fuel burners.
Mercedes-Benz's state-of-the-art Stuttgart plant is accelerating the full production of EQS. Delivery to customers in Germany and other parts of Europe started in September this year, and plans to arrive in Australia around March or April next year.
Although the lineup will definitely increase before the car goes on sale here, the first variants off the assembly line are EQS450+ and EQS580.
The single-motor 450+ equipped with 19-inch aviation wheels has a mileage of 780 kilometers, measured according to the actual WLTP standard. Even with larger wheels, it is a car over 700 kilometers. There are also many official WLTP series of the more powerful and faster dual-motor 580; 676 km.
Both have the same 108kWh lithium-ion battery. Mercedes said it will also produce a variant of the EQS equipped with a smaller 90kWh battery at some point in the future.
Regardless of the size of its battery pack, the aerodynamic shape of the EQS means it can drive farther per kilowatt hour. No other car produced today cuts into the air better than this Mercedes-EQ, with a world record of 0.20 drag coefficient.
Behind the steering wheel, you can feel that this is a very slippery car. After deactivating regenerative braking-just tap a paddle on the steering wheel-when the accelerator pedal is released, the EQS will only roll and roll. That's in an apartment; if the road goes down even slightly, it will accelerate.
The aerodynamic shape of the EQS allows it to naturally provide a hatch instead of a trunk lid for the car. There is a huge cargo hold under it. One obvious disadvantage of the car's aerodynamic profile is the way it squeezes the head space of the rear seats. Although spacious enough, the rear of the EQS lacks the spaciousness of an S-class sedan.
The dual-motor EQS580 is all-wheel drive and can be started from a standstill without much effort. It is a bit faster than the S580 equipped with a hybrid turbocharged six-cylinder engine.
EQS450+ uses a single motor to drive only the rear wheels. It takes nearly two seconds to reach 100 km/h from a standstill, but once it rolls, it will have the typical lively feeling of an electric car.
EQS, despite its size and weight, is a good drive. This is one of the cars that looks smaller from the driver's seat than from the outside. The standard rear-wheel steering system improves its flexibility and makes EQS curves like a shorter car.
But the best thing inside EQS is the super screen. This slightly curved piece of glass is the entire dashboard. It can hold up to three displays, including a large and beautiful central touch screen and an optional passenger side display.
Literally, it's amazing…and easy to use. Although Hyperscreen is the core component, the entire cabin of EQS is elegantly designed. This is a better interior than the S-Class, both in terms of aesthetics and amazing factors.
In addition to luxury and cuteness, EQS, like the S-Class, is equipped with Mercedes' latest and most advanced driving assistance and safety technology. It has automatic emergency braking that works forward and backward, adaptive cruise with predictive speed limit adjustment, steering, lane keeping and lane change assist systems, etc.
As there are still a few months before the arrival of EQS, Mercedes-Benz Australia has not yet announced the local model lineup and its prices. But the new S450 (starting at USD 240,000) and S580 (USD 330,000) provide some expected guidance. Keep in mind that equivalent versions of EQS promise to provide similar prices.
A large sum of money is a big decision for the few rich people who can spend so much money. Is it the S-Class now, or is it waiting for a better large-scale Mercedes-Benz EQS?
Mercedes-EQ EQS450+ VITALS
price: 250,000 USD (East)
engine: Single synchronous six-phase permanent magnet motor; 245kW/568Nm
spread: Single speed; rear wheel drive
Safety: Automatic emergency braking (including reversing), active brake assist with intersection function, active blind spot assist with exit warning function, active steering assist, active lane keeping assist, active lane change assist, avoidance steering assist, active emergency situation- Stop assist, driver drowsiness detection and warning, active cruise control with predictive speed limit adjustment, etc.
Driving range: 780 km
Energy consumption: 15.8-19.8kWh/100km (WLTP)
0-100km/h: 6.2 seconds