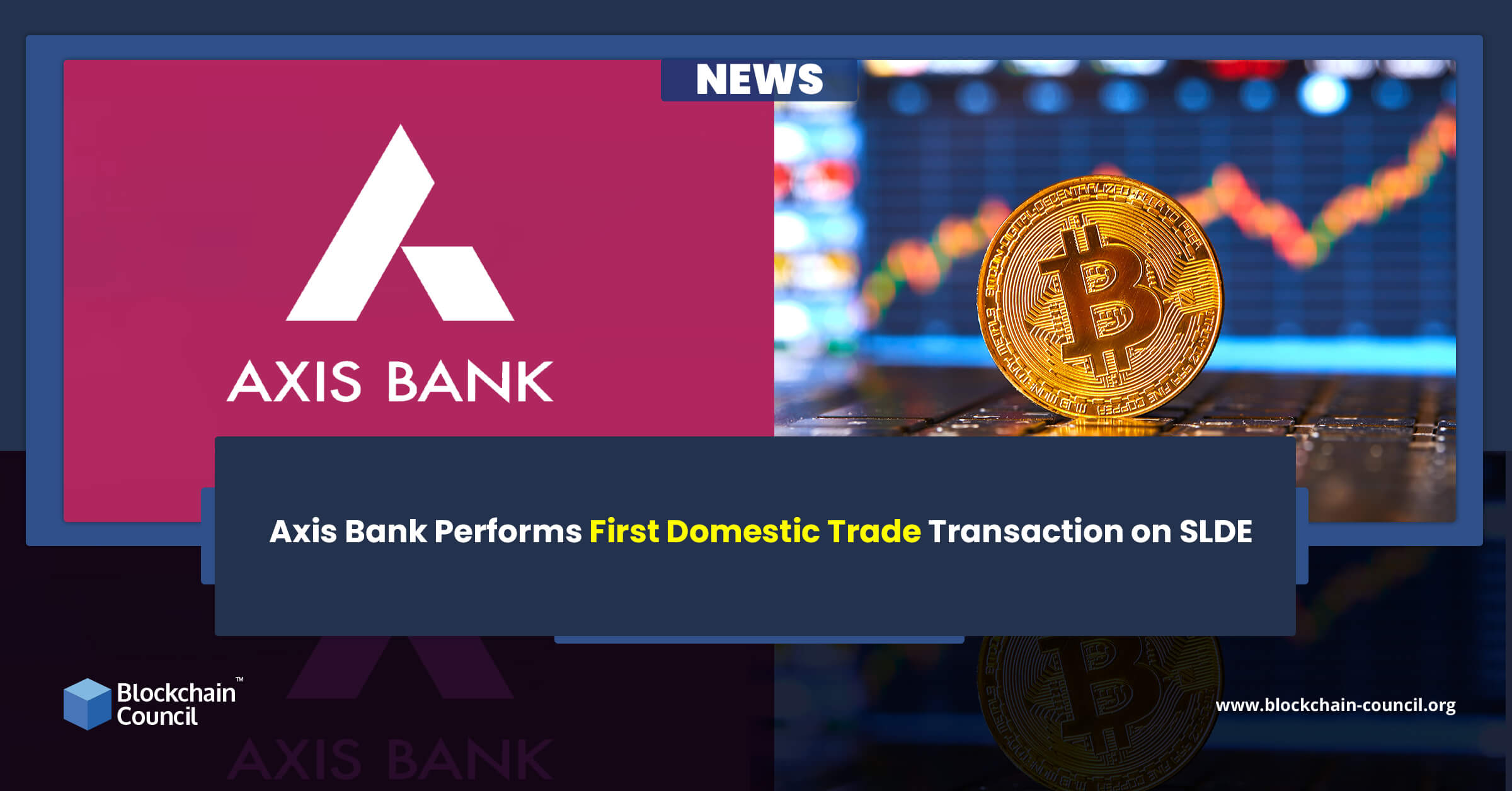 As India's third largest private banking entity, Axis Bank has successfully processed the industry's first blockchain transaction on the Secure Logistics Document Exchange (SLDE) ecosystem.Highly anticipated domestic trade deal executed with Arcelor Mittal Nippon Steel India (AM/NS India) and Lalit Pipes & Pipes Ltd. (LPPL) with government support from SLDE Decentralized Exchange platform.With this achievement, Axis Bank is adopting blockchain technology.

according to official report, transactions involve the letter of credit advising process and the digital representation of basic trade documents such as invoices, shipping documents, etc. According to the Axis Bank team, the blockchain interface enriches them with transparent working channels. Participants can easily access all transactions performed on the network and the files associated with the transactions. This helps to improve working capital management within the entity. The use of the SLDE portal helps to eliminate the limitations of paper-based transactions such as low transparency, slow speed and lack of audit trails.
Mr. Vivek Gupta, President and Head of Wholesale Banking Products at Axis Bank, said the transaction supports Axis' goal of being a leader in paving the way for the digitisation of the entire transaction banking industry. The bank has been actively working on the development of blockchain technology. The team collaborates with several top blockchain companies and projects to develop a decentralized ecosystem. A similar reaction was made by Mr. Amit Harlalka, Deputy Chief Financial Officer of Arcelor Mittal Nippon Steel India (AM/NS India). The principal said his team is constantly working to integrate new improvements to enhance the functionality and delivery of the core supply chain network. Transactions with Axis Bank and the SLDE platform may ensure greater efficiency, a secure audit trail and a sustainable trading system.
Jt. Mr. Zoher Diler, General Manager and Chief Financial Officer of Lalit Pipes & Pipes Ltd., said that with this transaction, the company has taken the first step towards a better work system. The SLDE network will help reduce carbon impact while also providing transparency and sustainability to the company's internal and external stakeholders. The principal is delighted to join Axis Bank's initiative, which sets a trend for other companies to follow.
The growing popularity of blockchain technology and cryptocurrencies across the globe has sparked a similar fad in the Indian subcontinent. Today, we can find Indian companies and investors flocking to these new age financial instruments that are shaping the future of the payments industry. Extending blockchain technology to banking channels could revolutionize the industry with greater transparency, cost-effectiveness, and scalability of work channels.