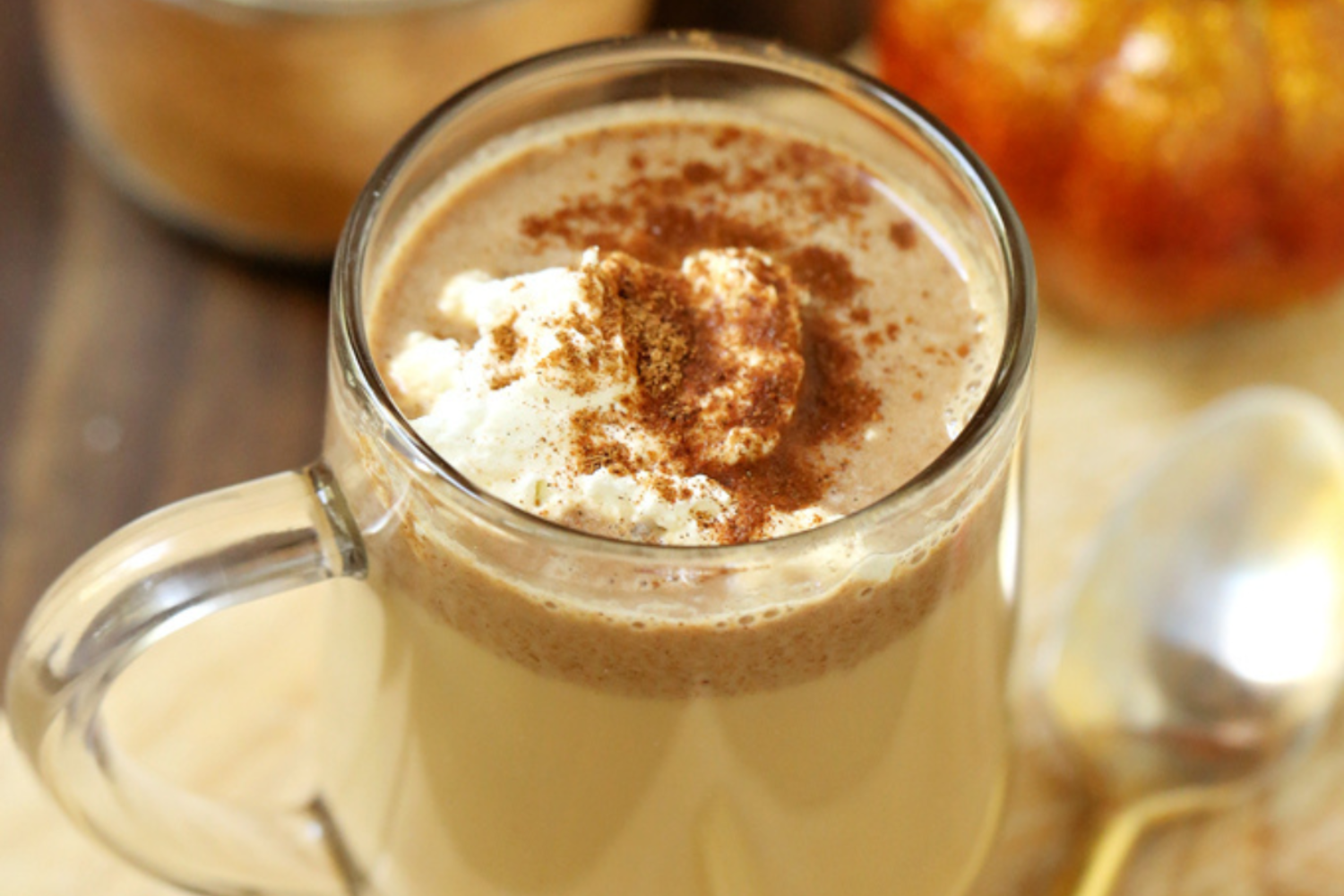 You only need 5 ingredients, 5 minutes, and it's only 2g NET carbs.
You can make your own healthy copycat Starbucks coffee at home with this easy recipe for less than $1.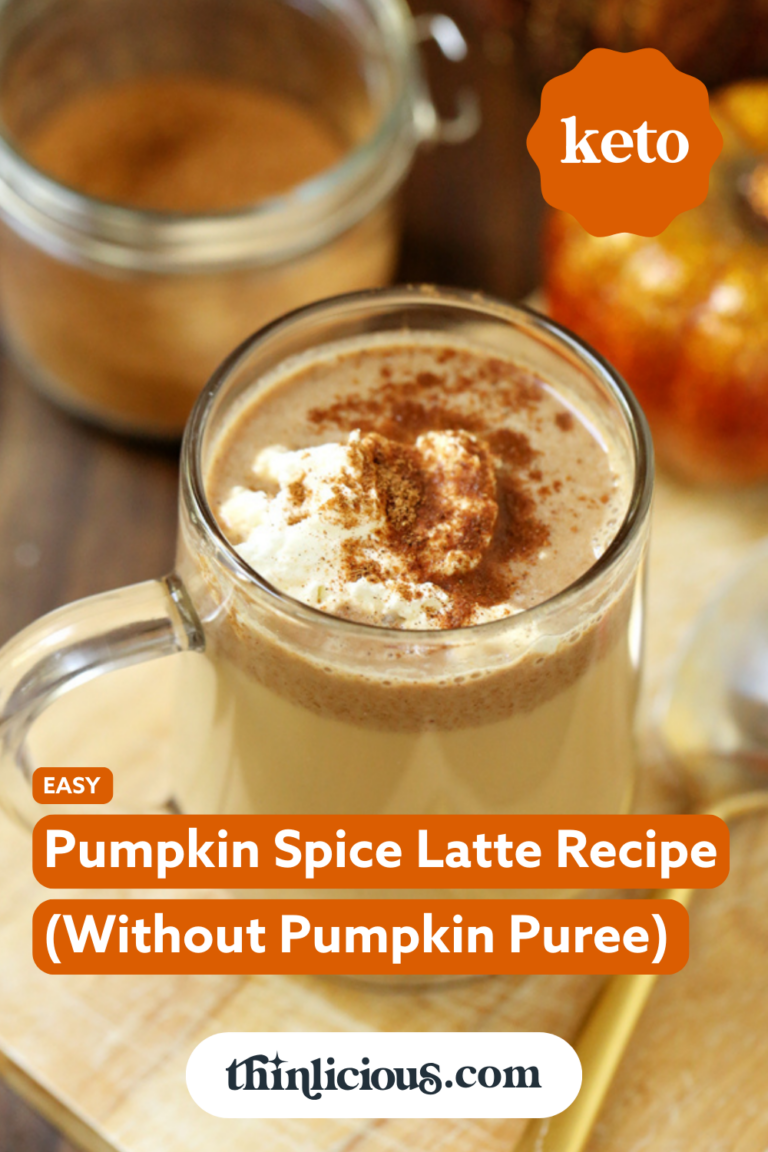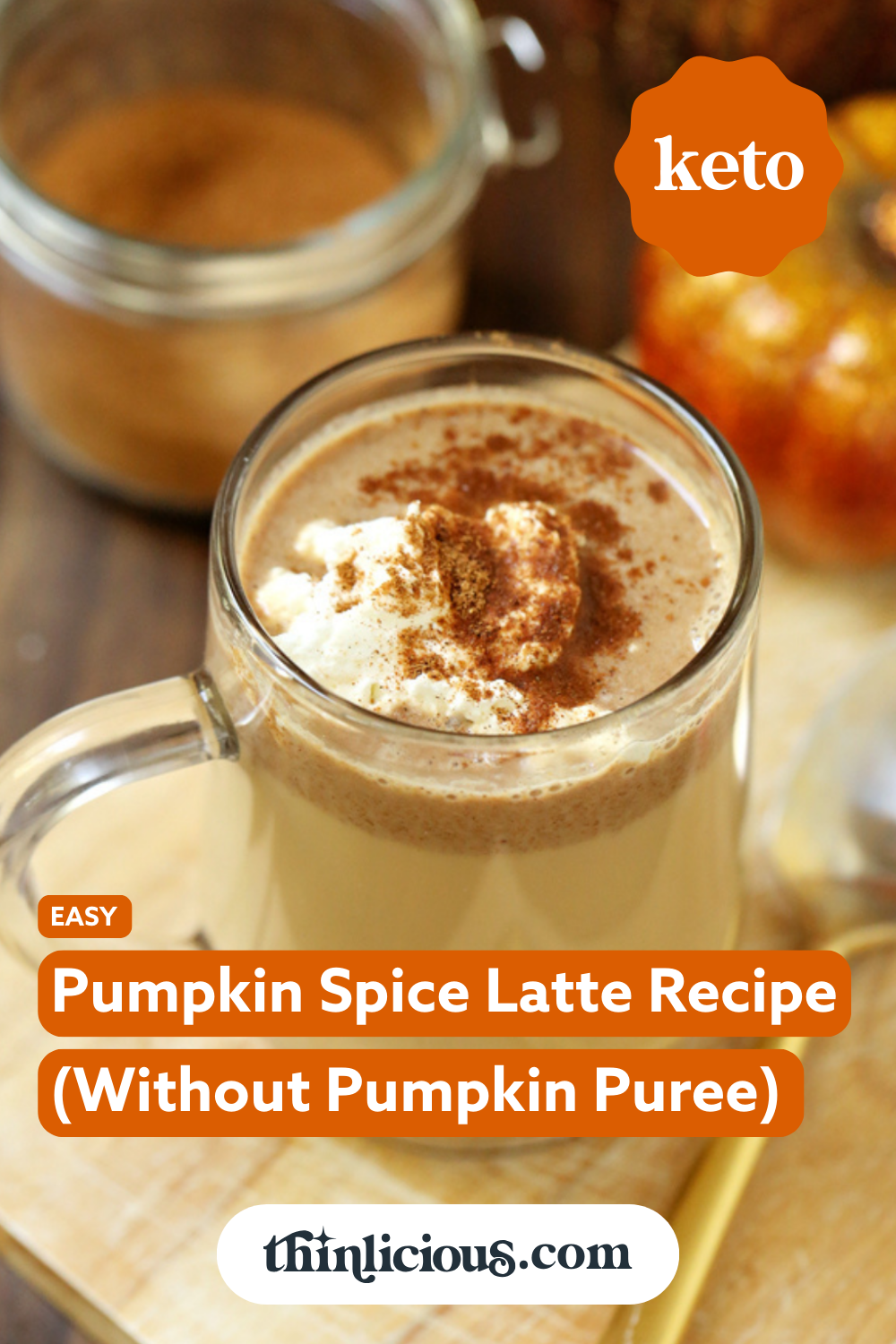 Get your FREE keto Thanksgiving and keto Christmas meal plans with over 70 of the best keto holiday recipes, your whole family will love.
This healthy creamy pumpkin spiced coffee shop version is served with whipped cream can be enjoyed HOT or COLD. Simply throw all the ingredients in your blender.
Ready to lose weight and get healthy for life without dieting, drugs or making yourself miserable?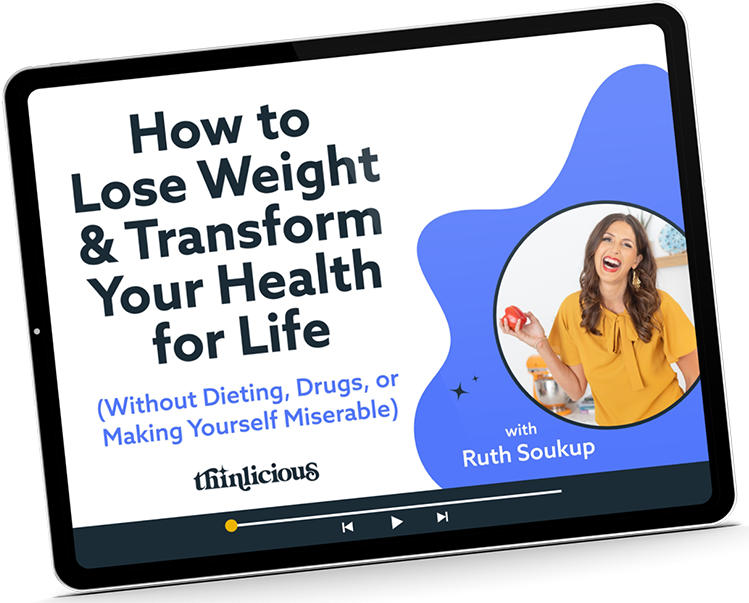 Our free on demand video training will help you understand why it's been so hard and what do to about it.
What is a pumpkin spice latte?
A pumpkin spice latte (or a pumpkin pie spiced latte) at your local coffee shop is a hot or cold coffee drink made with strongly-brewed coffee blended with pumpkin pie spice, whole milk, a pumpkin spice blend, and served with whipped cream and pumpkin syrup.
This is an easy homemade version for a keto copycat Starbucks pumpkin spiced latte (PSL for short) with no artificial flavors, no added sugar, and all the fall flavor warm spices.
It's a favorite way to drink coffee in winter, autumn, and fall. And of course, it's also perfect at Thanksgiving.
What is a keto pumpkin spice latte?
Keto pumpkin spice lattes are made without pumpkin puree and use a sugar-free sweetener instead of sugar, pumpkin spice syrup, brown sugar, or maple syrup.
The homemade keto version saves carbs and money but still has all the delicious pumpkin spice latte flavors.
So now you can enjoy your morning warm cup of coffee without ruining your macro goals, low-carb diet, or keto diet.
What is pumpkin puree?
Real pumpkin puree is made from cooked pumpkin that is then pureed to a smooth paste. It is used to give real pumpkin flavor in pumpkin recipes such as pumpkin fudge, pumpkin cookies, pumpkin muffins, and pumpkin pie filling.
Store-bought canned pumpkin is usually low moisture so if you want to make your own pureed pumpkin, you have to remove as much moisture as you can.
How to make homemade pumpkin puree
You can make your own homemade pumpkin puree by roasting or boiling pumpkin, then allowing it to cool completely. You must allow all the steam to escape completely before placing it in your blender or food processor.
What is pumpkin pie spice?
Pumpkin pie spice is a mix of warm winter spices such as ground nutmeg, ground cinnamon, ground ginger, allspice, and ground cloves.
It's the pumpkin spice that gives all the flavors to the homemade pumpkin spice latte.
Ingredients to make pumpkin spice latte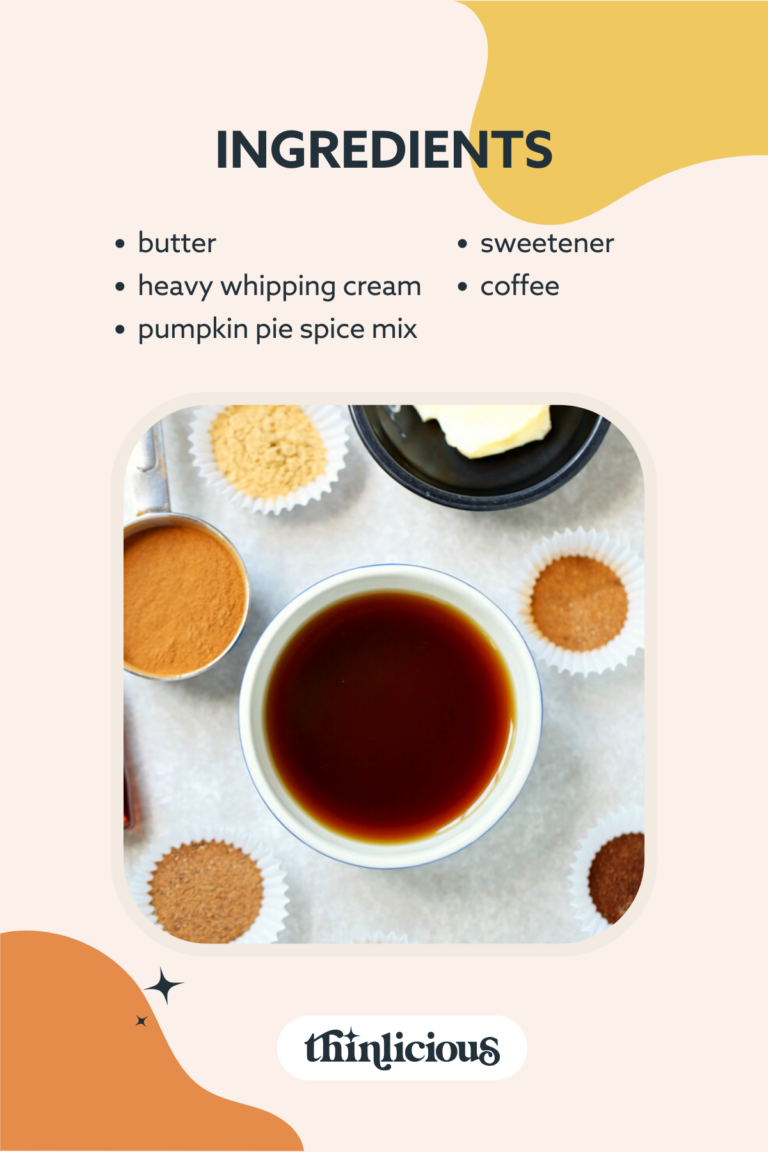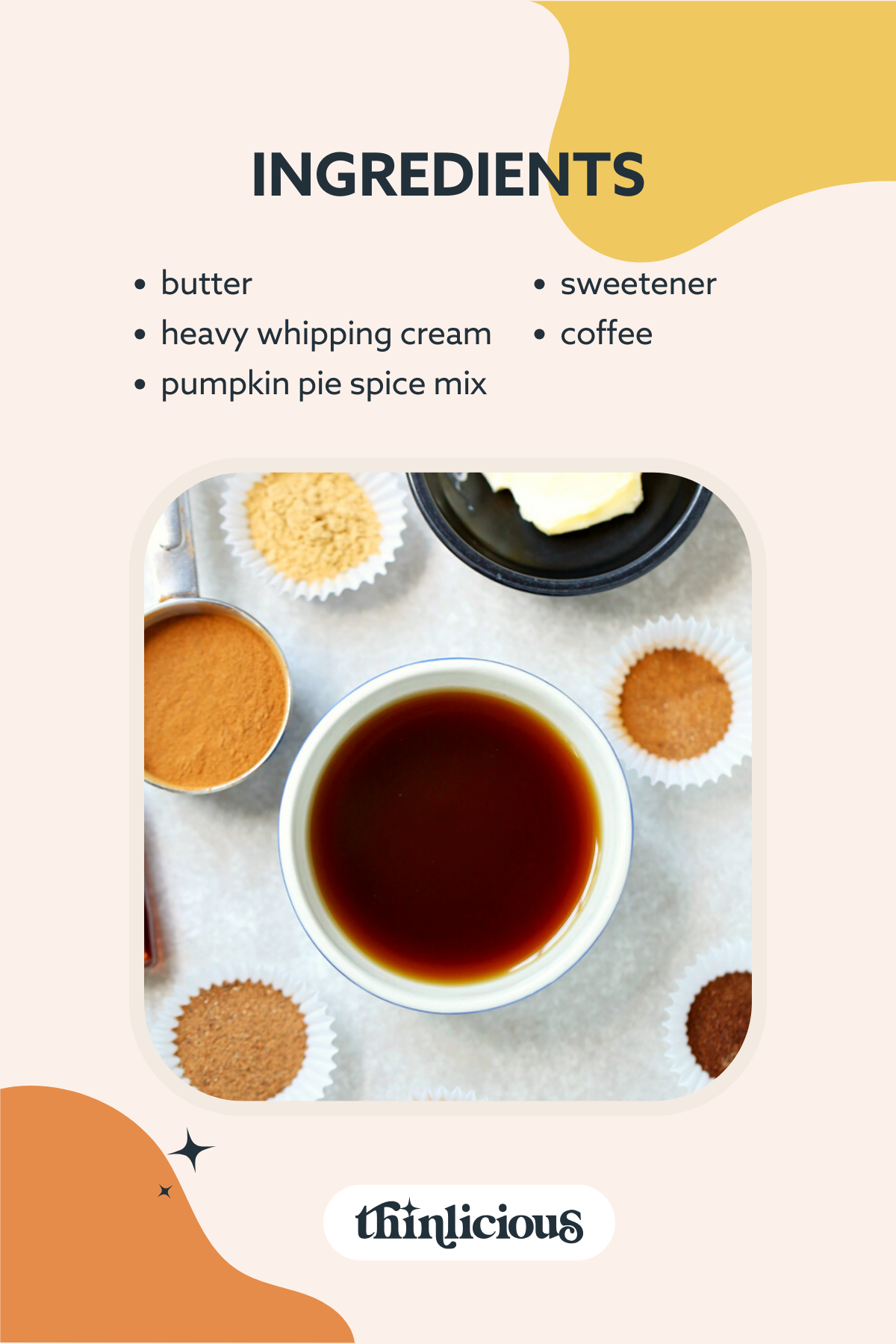 This homemade pumpkin spice latte recipe is very easy to make. You don't need any special equipment, just 5 simple ingredients. All the quantities, recipe notes, and instructions are in the recipe card below.
Butter – this may be omitted if you want a low-fat pumpkin latte. You can use coconut oil, but you would need to add additional flavors. Grass-fed butter is preferable.
Heavy whipping cream – this makes homemade keto coffee creamy and delicious. You can also use a dairy-free cream such as unsweetened almond milk, coconut cream, soy milk, or coconut milk but it may not be as creamy as the original spice latte. Check the nutrition label for added sugars or starches.
Pumpkin pie spice mix – store-bought or homemade pumpkin pie spice mix (made from the individual spices pictured above).
Sweetener – use your favorite sugar replacement (sweetener of your choice), and add more or less to adjust the sweetness of the keto coffee. The most common keto sweeteners are erythritol, monk fruit, allulose, xylitol, or stevia.
You may need more of your favorite sugar-free sweetener than the recipe suggests if you are a beginner.
Coffee – strongly brewed coffee (such as home brewed espresso made in your espresso machine or French press), a cold-brewed coffee, or a good quality instant coffee will also work in this recipe.
For an absolutely delicious stronger coffee flavor, you can add double shots of espresso.
Pumpkin latte variations
The homemade pumpkin spice latte recipe is very versatile. You can add any of the following substitutions.
Vanilla pumpkin latte – add vanilla extract (vanilla essence)
Extra strong coffee flavor – either add a double shot of espresso roast or use a few drops of coffee extract or cold brew concentrate.
Caffeine-free latte – use a caffeine-free strong coffee.
Dairy-free latte – you can swap the heavy cream (or hot milk) for dairy-free milk such as oat milk, soy milk, almond milk, hemp milk, or cashew milk for a delicious latte without dairy. Most dairy-free milk has a high carb count so make sure it still fits within your daily carb allowance.
Iced pumpkin spiced latte – add a few ice cubes into your blender before blending, then pour over more ice cubes into a tall glass.
Vegan pumpkin spice latte – instead of double cream, use oat milk, almond milk, soy or cashew milk.
Please adjust the nutrition calculations and carb count if you make these changes.
How to make keto pumpkin pie spice blend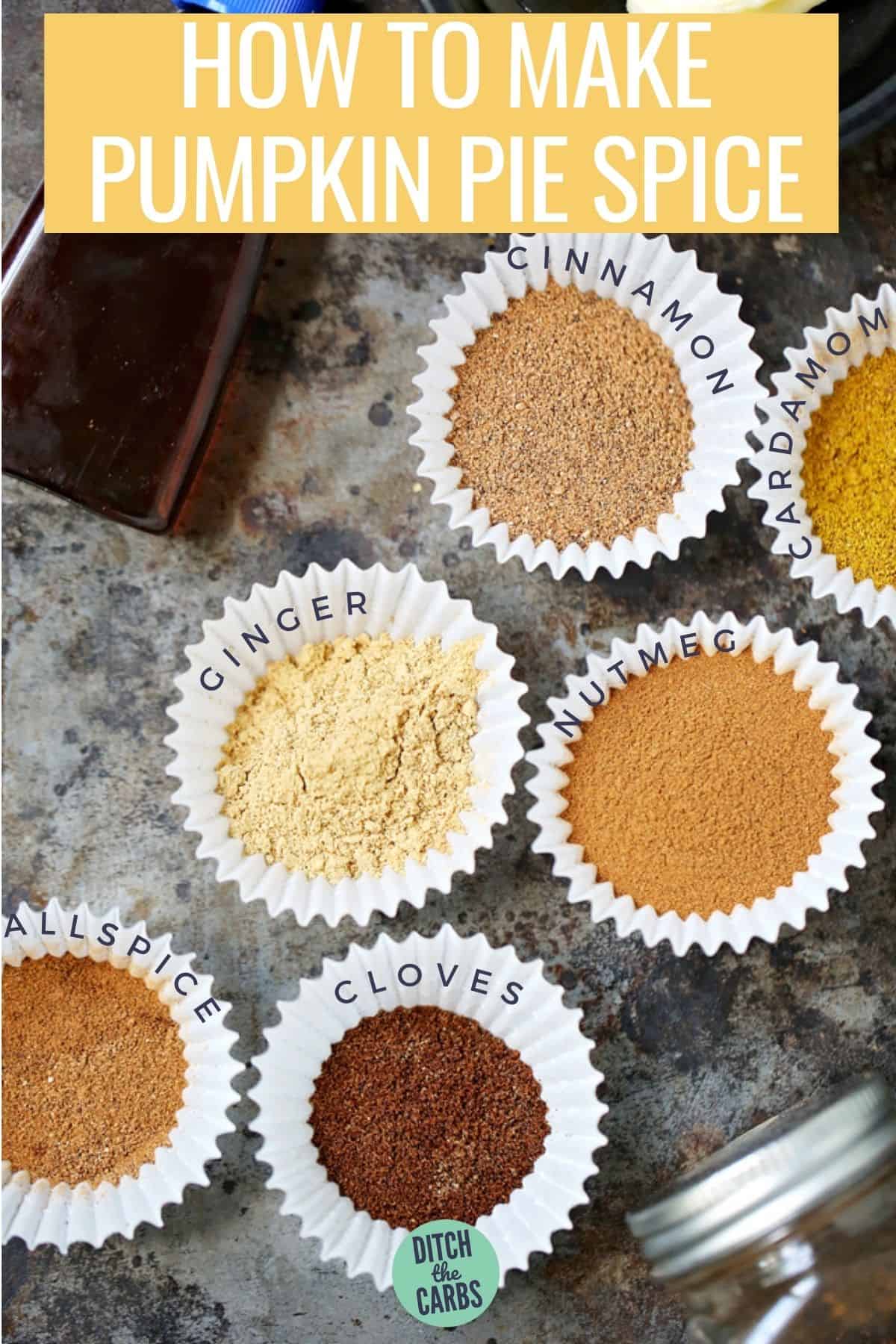 To save even more money, why not make your very own homemade pumpkin spice?
You can add the individual warm fall spices in exactly the quantities and spice ratios that you prefer. You can adjust the flavor and taste to exactly the way you love it.
Homemade pumpkin pie spice is perfect for a gift at this time of year for friends and family too, so make an extra batch or two.
How to make homemade pumpkin spice latte
STEP 1: Blend your pumpkin latte
Begin with your favorite strongly brewed coffee such as an espresso shot. It needs to be strong so you can taste all the flavors of your coffee and the pumpkin pie spices.
Pour the fresh coffee from your coffee machine, heavy cream, pumpkin pie spice blend, and keto-friendly sweetener into your blender, smoothie maker, stick blender, or food processor.
Begin to blend and process until your creamy keto pumpkin spice latte is frothy and everything is combined.
If you don't have a food processor, you can heat everything in a small saucepan on medium heat to mix and heat together. Then use a milk frother (or immersion blender) to emulsify all the ingredients.
STEP 2: Serve your pumpkin latte
Pout into your favorite heat-proof tall glass or mug and serve with whipped cream and a cinnamon stick. Sprinkle some nutmeg on top to decorate.
You can even pour some sugar-free syrup (or keto syrup) over the top too.
Nutrition facts
A classic 20 fl oz venti Starbucks pumpkin spice latte contains 63g of sugar. That's 15.8 teaspoons.
One serving of a homemade healthy pumpkin spice latte provides 2 g net carbs, 1.3 g protein, 34.6 g fat, and 318 calories.
How to make iced pumpkin spice latte
The keto pumpkin spice latte recipe card shows you how to make a hot spiced latte.
If you want to make a cold coffee or an iced pumpkin latte, begin by using a chilled coffee or a cold brew (not a hot espresso coffee). Add all the ingredients to the blender and some ice cubes.
Pour your frothy cold pumpkin coffee over a tall glass with ice. Serve with chilled whipped cream with cinnamon sticks and you have your very own delicious recipe for iced keto Starbucks at home.
How to serve pumpkin lattes
The perfect way to serve a keto pumpkin spice latte is in a coffee mug with sweetened whipped cream and sprinkle ground nutmeg or pumpkin pie spice over the top to garnish.
If you have a good vanilla sugar-free syrup, you can pour that over the whipped cream too. Always check which sweeteners are in sugar-free syrups and avoid maltitol (it raises blood glucose and should always be avoided).
Keto coffee FAQs
How to order keto pumpkin spice latte at Starbucks
There is no official keto coffee at Starbucks but my top tip for ordering a keto coffee at any coffee shop or cafe is to order any coffee that doesn't contain milk (dairy milk or non-dairy milk) such as a long black.
Order a small jug of cream on the side, then you are in control of how much you want to use. Always ask for plain heavy cream (heavy whipping cream) and ask if there is any added sugar because many coffee shops will automatically give you sweetened whipped cream unless you ask for pouring cream.
How much sugar is there in a Starbucks pumpkin spice latte?
A 20 fl oz venti pumpkin latte from Starbucks contains 63g sugar. That's 15.8 teaspoons of sugar, 470 calories and contains Milk, Pumpkin Spice Sauce [Sugar, Condensed Skim Milk, Pumpkin Puree, Contains 2 Or Less Of Fruit And Vegetable Juice For Color, Natural Flavors, Annatto, Salt, Potassium Sorbate], Brewed Espresso, Whipped Cream [Cream (Cream, Mono And Diglycerides, Carageenan), Vanilla Syrup (Sugar, Water, Natural Flavors, Potassium Sorbate, Citric Acid)], Pumpkin Spice Topping [Cinnamon, Ginger, Nutmeg, Clove, Sulfiting Agents].
How much sugar is there in keto pumpkin spice coffee?
This recipe only contains 1g of sugar! That's a HUGE difference compared to the 63g in the coffee house version. Better yet, it's less than 2g net carbs.
How much does the pumpkin pie latte cost?
A coffee shop pumpkin pie coffee can cost $3USD – $6USD. Homemade keto pumpkin coffee costs under $1 to make. That's a significant difference.
Which coffee should I use?
A strong espresso is the best, but you can use strong instant coffee too. For the best morning coffee, make sure the coffee has been freshly brewed or freshly made.
Can I make a keto pumpkin spice latte in advance?
Yes, you can make it in advance but you would then need to mix the coffee one more time before serving. The spices often fall to the bottom of your coffee and you need to emulsify them again.
If you want a hot coffee you will also have to reheat it. In reality, this recipe is so quick and easy, I would suggest making the spiced latte only when you need it.
Does a keto pumpkin spice latte contain pumpkin?
Starbucks' original recipe never contained any pumpkin. It wasn't until 2015 did Starbucks actually begin to add pumpkin puree to its PSL coffees.
Can I have a regular latte coffee when on a keto diet?
No, regular latte's are made with milk which has 4% carbs so the carb content quickly adds up. The best way to order coffee is to order a long black, tall black, or an Americano with a splash of cream. You can see all the carbs in coffee charts so you know exactly what to order when on a keto diet.
What do I need to avoid at coffee shops when keto?
You always need to avoid high-sugar baking, cakes, and cookies, but did you know you should also avoid maple syrup, pumpkin syrup, and even sugar-free syrups?
Many cafes don't stock sugar-free versions or they automatically dispense the syrups with added sugars thinking you won't notice. So many readers have told me they test their blood glucose after a sugar-free syrup in a black coffee and it's sky-high.
Can I make a bulletproof pumpkin spice latte?
I never advocate for drinking your meals and adding extra fat when you don't need to. However, many of you love your high-fat keto drink recipes and bulletproof coffees (high-fat coffees) so you can add MCT oil and extra butter if you prefer. However, excessively high-fat drinks can often be one of the main reasons you are not losing weight.
Can I make the pumpkin spice latte dairy-free?
Yes, you can use unsweetened almond milk, unsweetened coconut milk, hemp milk, or enjoy a black spice latte.
Can I use leftover pumpkin or pumpkin purée in
Most coffee shop versions of pumpkin spice lattes do not contain any real pumpkin. They use pumpkin syrup with pumpkin flavor, vanilla extract, ground cloves, and brown sugar to make this comforting drink.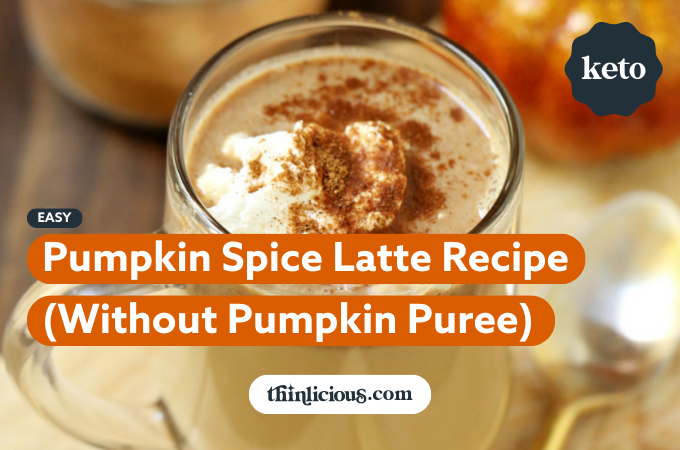 More pumpkin recipes
When sipping on your homemade Starbucks copycat coffee, there are some low-carb recipes and keto recipes you can enjoy alongside without breaking your keto diet.
If you love pumpkin spice, you'll surely love a quick and easy sugar-free pumpkin pie mug cheesecake. A delicious single-serve cheesecake, ready in just a few minutes. All the easy recipes below are sugar-free, gluten-free, low-carb, and keto friendly.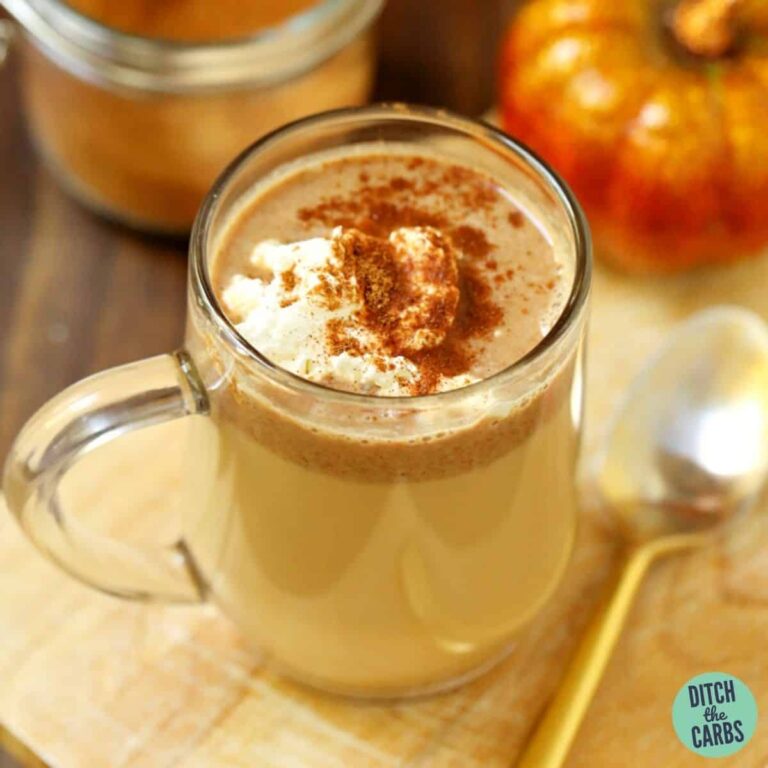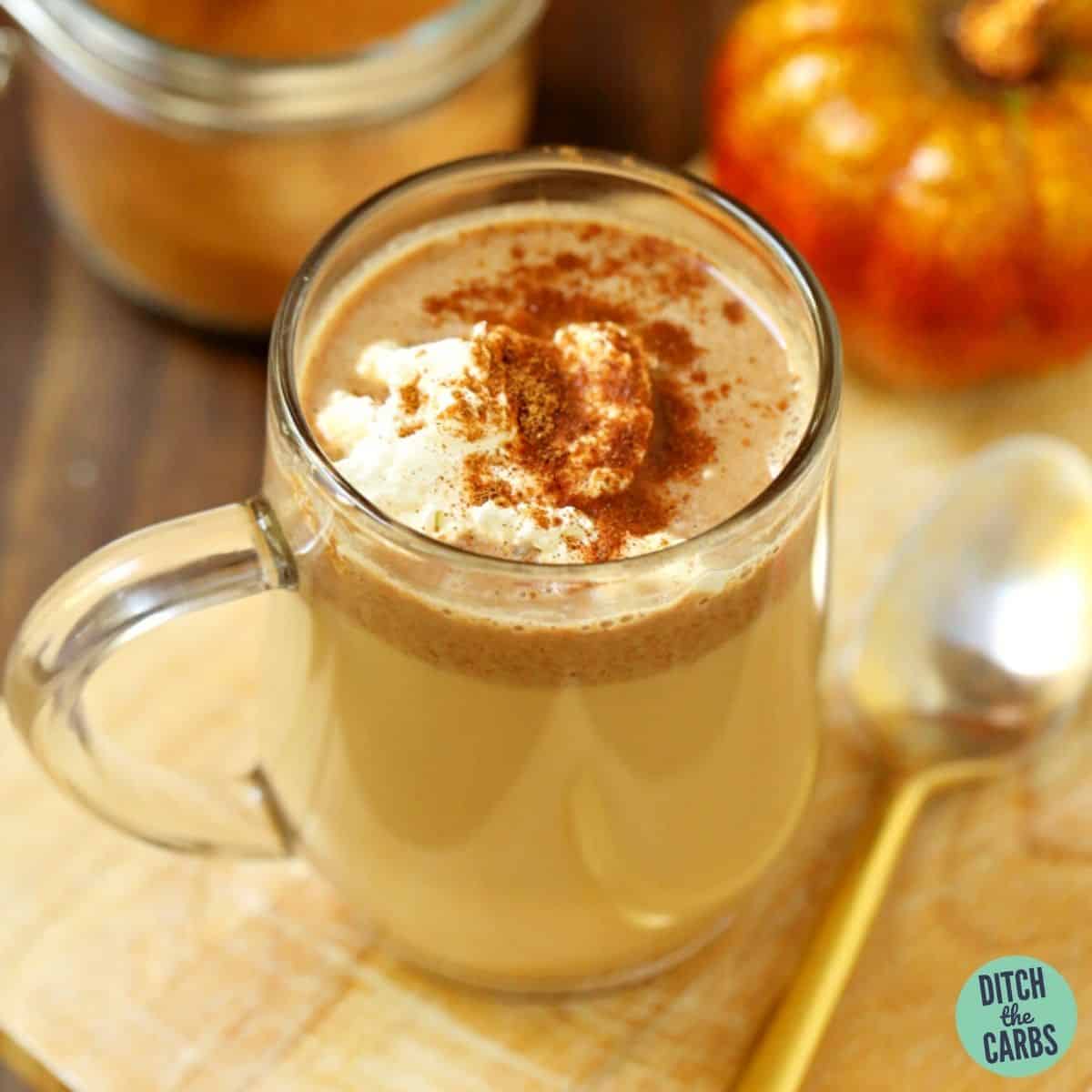 2

tbsp

butter

optional

2

tbsp

heavy whipping cream

1

tsp

pumpkin pie spice mix

1

tsp

granulated sweetener of choice

or more to taste

1

cup

strong coffee

hot or cold
Prevent your screen from going dark
You can enjoy this homemade keto pumpkin coffee hot or cold.
Serving: 1serveCalories: 318.1kcalCarbohydrates: 2.3gProtein: 1.3gFat: 34.6gSodium: 220.4mgPotassium: 165.8mgFiber: 0.3gSugar: 0.2gVitamin A: 1162.5IUVitamin C: 0.6mgCalcium: 45.4mgIron: 0.5mg
In the mood for a keto hot chocolate instead? The recipe is sugar-free and includes the steps to make your own soft marshmallows!