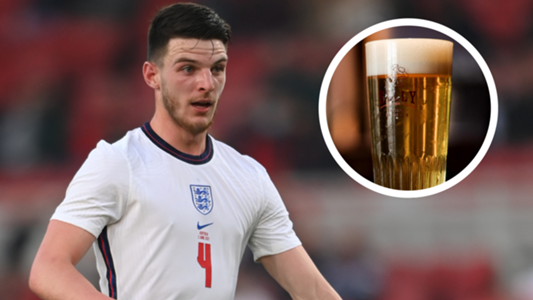 The West Ham star said he had never had a pint, but if the Three Lions win the summer tournament, he would try it
Declan Rice promised that if England wins the 2020 European Cup, he will drink his first glass of beer.
The West Ham United star admitted that he did not like this drink, but the Three Lions bringing home the trophy is an exception.
The 22-year-old Rice is likely to play a key role in England's European Cup match, which will begin on Sunday against Croatia.
Say what?
"You know, I'm 22 years old until today, and I've never had a beer! This is the truth," Rice said. "Never had a pint. Don't drink it.
"Not really [a drinker]. But a pint? Do not. I know this is a digression, but I have never had a beer. People are surprised. I just don't like its taste, so I have never been close to it. "
When asked if he would drink beer if England win the European Cup, Rice said: "Yes. I will try it-but I might spit it out!"
Rice also said that he hopes Prime Minister Boris Johnson can lift the remaining blockade restrictions so that English fans can fully experience the game.
"If Boris lifts the blockade, the game will be in full swing on the 21st, the whole country will be buzzing, all the songs will be flying in the bar, obviously we will be playing.
"We will definitely feel the positive impact on the country."
What's next for England?
England will face Croatia in the opener of the European Cup on Sunday, and then against Scotland and the Czech Republic in the group stage.
Gareth Southgate's team will have home court advantage and all three games will be held at Wembley Stadium.
Further reading