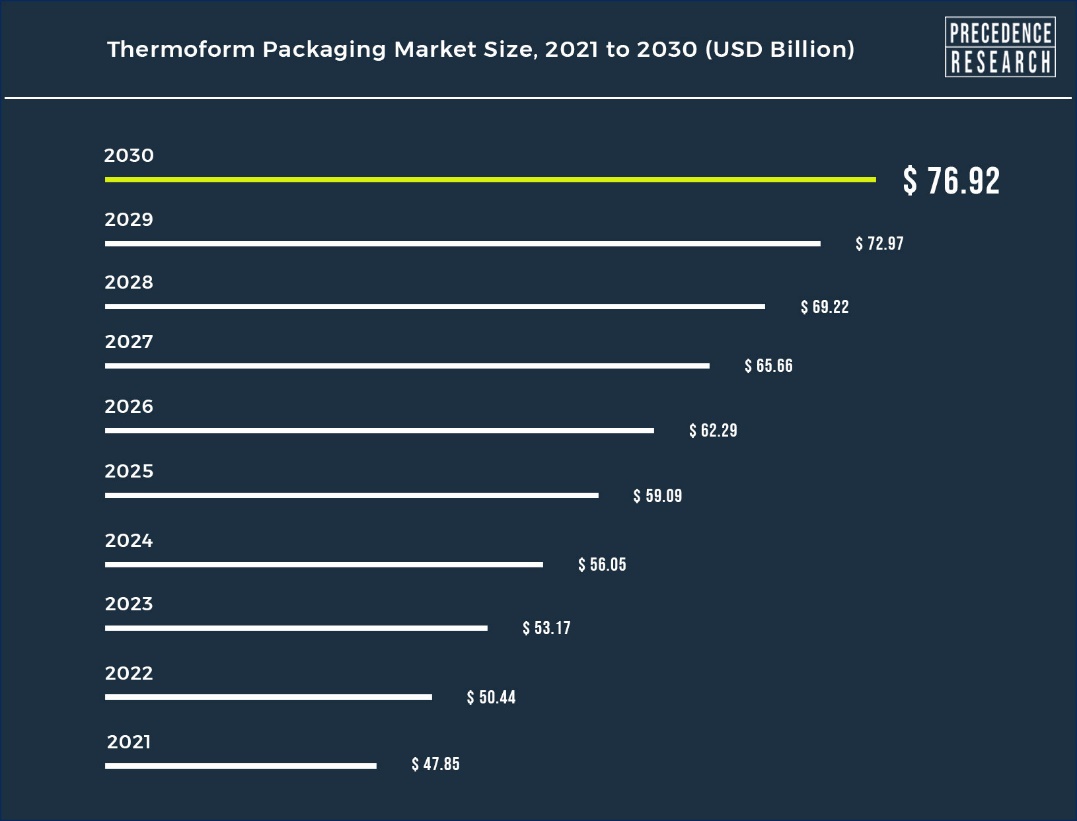 Tokyo, Sept. 19, 2022 (GLOBE NEWSWIRE) — The thermoform packaging market size was reached at USD 47.85 billion in 2021. Thermoforming is a plastic forming method that allows for the creation of various packaging items. It entails heating rigid polymers and other specialty materials to make them moldable. Pressure forming and vacuum forming are two types of thermoforming. The procedure may be used to turn plastic into permanent items like road signs and protective coverings. Extra pressure is often utilized in pressure molding to improve detail and texture.
Get the Free Sample Copy of Report@ https://www.precedenceresearch.com/sample/2146
Thermoforming is a technique used to create a variety of packaging items and components. These goods include unit dose packaging for medicines, blister packs, and over-the-counter (OTC) medications; clamshell packaging for health and beauty items; and plastic trays for food-related products. Thermoforming is a type of packaging used in the pharmaceutical, electronics, and food sectors. Thermoforming has several advantages, including the capacity to respond to changing requirements, minimal operational costs, and customization in large-scale availability. It also has a rapid turnaround time, making it suitable for completing last-minute demands/orders.
Rising environmental concerns, customer desire for sustainability, a demanding regulatory framework, and favorable government policies are driving the worldwide thermoforming packaging industry. The adoption of thermoforming packaging is an important step in reducing plastic consumption due to environmental concerns. The advantages of thermoforming packaging, such as lower carbon footprint and ease of composting, are projected to drive market expansion in the future years. To get a competitive advantage in the existing market scenario, the top competitors in the biodegradable water bottle market should focus on new developments and extend their product offerings.
Furthermore, they should boost their R&D efforts by focusing on creative and cost-effective items. The worldwide thermoforming packaging industry is being pushed by increased consumer awareness of environmental conservation and a trend toward sustainable products.
Furthermore, the single-use plastics prohibition and the regulatory framework implemented by government authorities to reduce plastic pollution are projected to boost the thermoforming packaging market during the forecast period. Thermoforming packaging contributes significantly to reducing plastic pollution; this is anticipated to enhance thermoforming packaging sales in the near future.
Key Takeaways:
In 2021, the PET material segment has exceeded 45% of revenue share.
In 2021, the containers product segment has garnered market share of around 27%.
The clamshell product segment is growing at CAGR of 5.8% between 2022 to 2030.
In 2021, the food and beverage end user segment has generated 52% revenue share.
The pharmaceutical end-user segment is poised to grow at a CAGR of 6.1% between 2022 to 2030.
North America region has contributed 28% market share in 2021.
Report Highlights
Oman Oil Refineries & Petroleum Industries Company (Orpic) had announced the new thermoforming grade named Luban HP1151K in May 2018, which will boost both the productivity and also the overall performance of clear the thermoformed cups, trays, and such containers. According to SouthPack packaging firm, thermoformed packaging costs 15.0% less compared to the normal plastic moulded packaging. In such cases, industry thermo packaging is expected to have higher acceptance during the forecast period.
The growing trend toward the creation of sustainable packaging is likely to drive market participants to produce new products that will allow them to fulfil increased demand. According to SouthPack, around 52% of consumers base their purchasing decisions on the eco-friendliness of the packaging material .
what is the regional impact in the thermoform packaging marcet?
Because of the presence of certain important companies in the area, such as Sonoco Products Company, Anchor Packaging Inc., and D&W Fine Pack, North America is likely to dominate the market throughout the projection period. This, …
Full story available on Benzinga.com