BANGKOK, THAILAND, Sept 14, 2022 – (ACN Newswire) – SEA's 2025 target to have 35% of total power capacity from renewable energy sources is expected to be supported by the strong solar and Energy Storage sector growth. How exactly should the quota availability be matched?
Energy Box are organizing Solar Energy Storage Congress SEA scheduled on October 18th, 2022.
The congress will invite the ASEAN government, local power companies, leading companies with the most development experience, qualifications and investment intentions in SEA, and 600+ professionals to share SEA's solar and Energy Storage project development strategies, and jointly analyze the future development of solar and Energy Storage markets. Including cutting-edge trends in its new energy market.
Event details:
Place: Bangkok, Thailand
Event access: https://www.energy-box.com/congress-sea-2022
Event Agenda: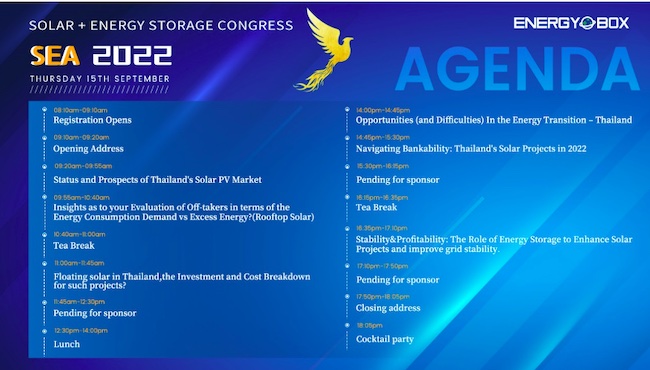 Honored Speakers (confirmed/inviting)
Patana Sangsriroujana , Deputy Governor, EGAT
Mark Hutchinson, Chair, Southeast Asia Task…
Full story available on Benzinga.com