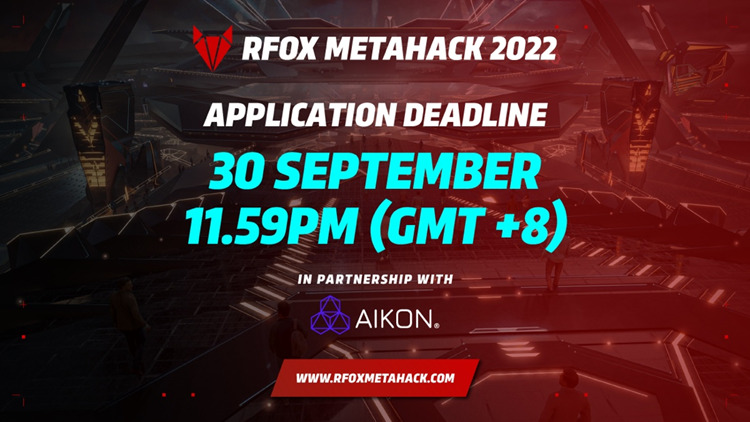 Ho Chi Minh City, Vietnam, Sept. 10, 2022 (GLOBE NEWSWIRE) — Metaverse company RFOX has introduced the RFOX Metahack 2022, a hackathon that will foster the development of creative Web 3.0 solutions to important challenges in the quest to shape the future of the Internet. Interested innovators can submit their applications to the hackathon on the RFOX Metahack 2022 website until September 30, 2022, at 11:59pm (GMT+8).
The RFOX Metahack 2022 aims to bring together innovative, talented individuals and teams who understand technologies like blockchain, crypto, and DeFi. The hackathon also serves as an avenue through which the RFOX ecosystem can help empower everyone to play, create, and earn in an immersive metaverse without borders.
The RFOX Metahack 2022 welcomes innovators to work with existing tools within the RFOX ecosystem and build new products and services to expand it. This virtual hackathon, presented by Padang & Co, and in partnership with AIKON, invites innovators to solve business problems and address new opportunities with the AI, blockchain, augmented reality, virtual reality, and Internet of Things spaces that can be incorporated into RFOX product roadmap.
Challenge Statements for RFOX Metahack 2022
There are six challenge statements featured in the RFOX Metahack 2022, representing the focus areas for innovation that hackathon participants can work on:
1. Mobile Games. Create mobile games – puzzles, arcade games, platformers, table-top games (checkers, chess, etc.) – implementing a play-to-earn mechanism using the blockchain and RFOX token.
2. Games SDK. Build a software development kit (SDK) that enables the creation of mobile games for…
Full story available on Benzinga.com