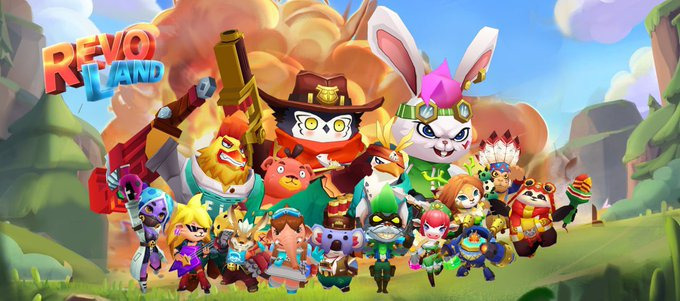 Dubai, UAE, Aug. 18, 2022 (GLOBE NEWSWIRE) — RevoLand, a blockchain-based MOBA game with a daily activity of over 10,000, will soon launch its staking function. Recently, the token price in P2E has fallen across the board , and problems such as lack of sustainability and serious loss of organic users continue to plague the entire chain game market.
To improve the current issues in the blockchain game market, RevoLand, a well-known blockchain game, announced that it will officially launch its staking system in August, aiming to attract more organic users to the RevoLand ecosystem and thus increase the sustainability of the project . Thus, RevoLand's staking system is expected to bring multiple benefits to token-holding users, game users, and token-holding + game users.
RevoLand, a British metaverse project, raised $10 million in funding
RevoLand is developed by Chain X Game (CXG), a London-based metaverse game development company that focuses on traditional games and blockchain development. The team aims to use GamiFi as a breakthrough to build a metaverse for users of the current worldwide gaming community, which will connect gamers, metaverse citizens, guilds and organizations, and everyone willing to try a new web3 lifestyle.
RevoLand, officially launched earlier this year, is a blockchain-based multiplayer online competitive (MOBA) game that allows players to gather friends to form teams, battle with others, and earn token rewards for their skills. RevoLand is dedicated to exploring a viable combination of traditional games and blockchain games and is a product that blends the advantages of traditional handheld games with substantial completion and entertainment.
Although RevoLand only launched not long ago, it closed its first multi-million dollar funding round at the end of May. The funding was led by Hashkey Capital and Polygon Venture, with Tian Ge Interactive, AKG Venture, LinkVC, Arcanum Capital Atlas Capital, Crypto Nord, PlayPark, MX investment, One Block Capital, AW Capital, Phemex Venture, Winston International, Gene Vision, and Yield Master. It is reported that this round of funding will be used to continue developing RevoLand's game product iteration, accelerating the platform's global expansion strategy.
Meanwhile, the market conditions in May were at the frostiest point of the bear market. Back then, Terra had collapsed, driving the entire crypto market downward, and the former P2E leader Axie Infinity was also mismanaged, causing the price of its gaming token SLP to go to near zero in May. Therefore, that RevoLand completed a multi-million dollar funding round in May also proves its potential to a certain extent.
According to officials, RevoLand is the first P2E game to hit Huawei's store and deeply cooperates with Huawei. In addition, RevoLand has gathered Seagm Asian, Iceberg Interactive, and Sigma Europe …
Full story available on Benzinga.com