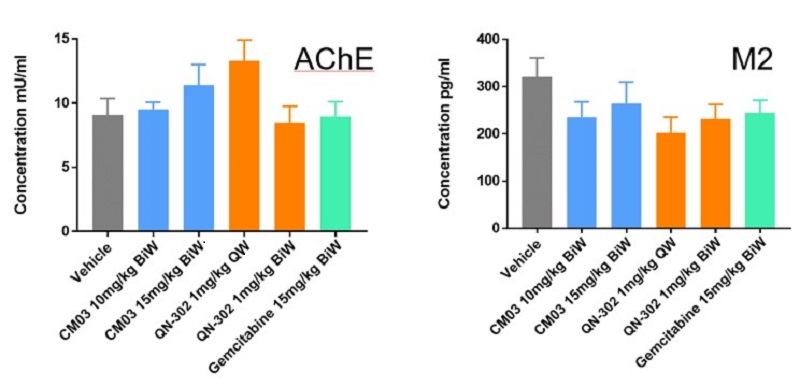 Posters include data regarding 1) mode of action, and
2) preclinical toxicology
CARLSBAD, Calif., Sept. 14, 2022 (GLOBE NEWSWIRE) — Qualigen Therapeutics, Inc. (NASDAQ:QLGN), a diversified life sciences company focused on developing treatments for adult and pediatric cancers with potential for Orphan Drug Designation, while also commercializing diagnostics, today announces the presentation of two posters on the Company's lead compound, QN-302, at the American Academy of Cancer Research's (AACR) 8th Special Conference on Pancreatic Cancer being held on September 13-16, 2022 in Boston.
"The data from these two posters demonstrate information that is instrumental in understanding the composition of QN-302 and its potential safety, tolerability and efficacy in pancreatic cancer," commented Tariq Arshad, MD, MBA, Qualigen's Chief Medical Officer. "We believe that the inclusion of these data into the AACR pancreatic cancer research meeting provides further validation of our therapeutic approach in treating this devastating disease. We continue to be on track for submitting our Investigational New Drug application during the first half of 2023."
Highlights of the posters include:
Poster A079, "The quadruplex-binding compound QN-302 in the MIA-PaCa2 pancreatic adenocarcinoma model shows no cardiac or neurological liabilities at therapeutic doses" (Ahmed Ahmed, Tariq Arshad, and Stephen Neidle) – The compound did not appear to have any cardio or neurovascular effects in mouse models.
In a standard industry receptor panel, QN-302 was shown to have no effect on key receptors for cardiac and neurological function.
QN-302 also showed no effect on heart or kidney tissue compared to a placebo vehicle, nor did it have a significant effect on heart rate.


Poster B030, The quadruplex-binding compound QN-302 targets the S100P gene in PDAC (Ahmed Ahmed, Tariq Arshad, and Stephen Neidle) – Evidence from MIA-PACA2 in an in vivo xenograft model supports…
Full story available on Benzinga.com