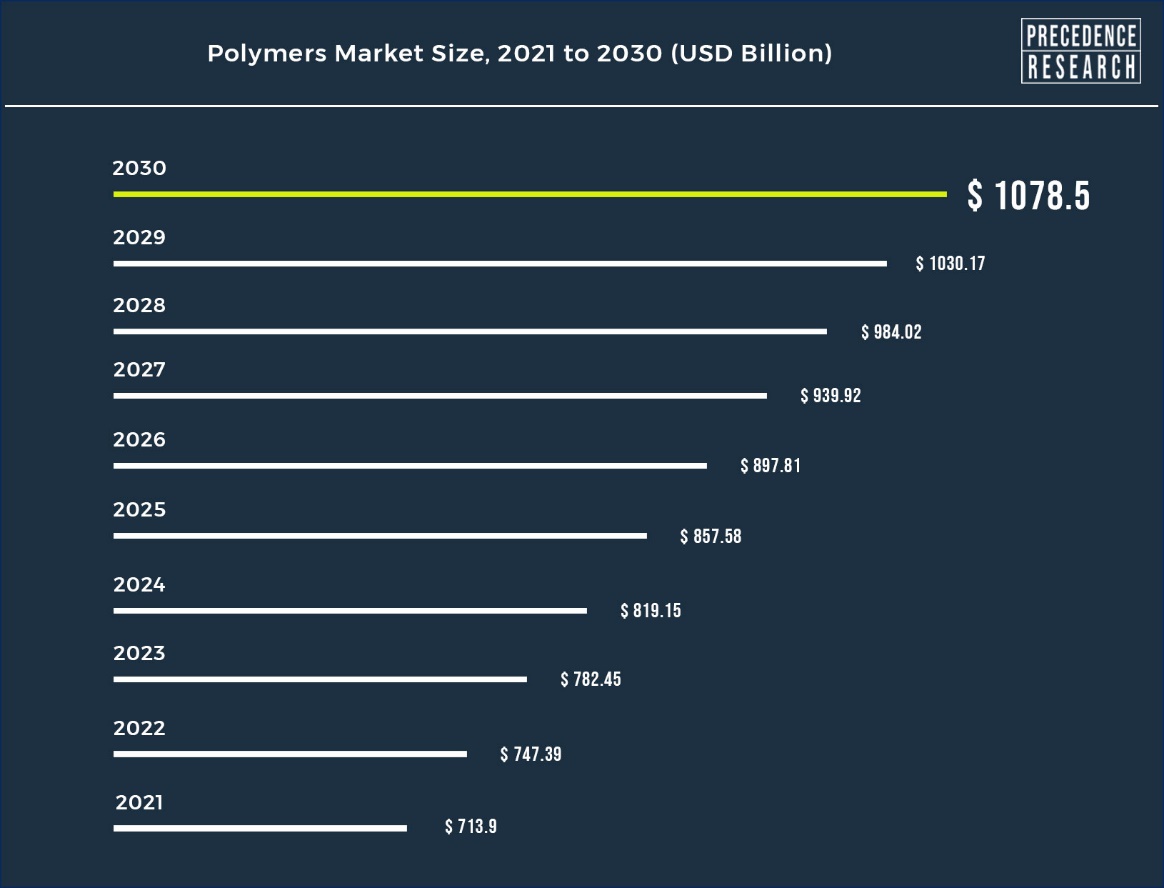 Tokyo, Oct. 26, 2022 (GLOBE NEWSWIRE) — Recently Announced Report on "Polymers Market (By Product; By Material; By Application; By Process) – Global Industry Analysis, Size, Share, Growth, Trends, Regional Outlook, and Forecast 2022-2030″.
A polymer is a big molecule made up of several repeating monomeric building blocks. There are two different kinds of polymers: synthetic and natural. Natural polymers, including rubber, resins, and gum, are derived from organic materials, whereas synthetic polymers are created by the polymerization of monomers. Numerous chemical and physical characteristics, including hardness, viscoelasticity, and a propensity to form semi-crystalline structures, are displayed by polymers. Due to the fact that polymer is one of the chemical products that is most often used in virtually all sectors, the global market for polymers is rising. The relevance of the polymers market is being influenced by the growth of the retail industry and the flourishing e-commerce industry's need for more packaging materials.
Get the Free Sample Copy of Report@ https://www.precedenceresearch.com/sample/2271
Key Insights:
Asia pacific region has captured 44% revenue share in 2021.
Asia pacific is growing at a notable CAGR of 7.9% from 2022 to 2030.
By type, the thermoplastics segment has accounted for 43% market share in 2021.
By material, the polyethylene segment has captured major market share in 2021 and growing at a CAGR of 7.4%.
By process, the injection molding segment is poised to grow at a CAGR of 6.9% from 2022 to 2030.
Regional Snapshots
The biggest market share was held by the Asia-Pacific in the polymers market during the forecast period. The strong expansion of the regional market is largely attributable to the widespread use of polymers in Asia Pacific's automotive, construction, packaging, agricultural, electronics & electrical , and textile sectors.
Flexible bottles, battery components, film wrapping, bearings, gears, cams, bushings, handles, jacketing for wires and cables, safety helmets, and anti-corrosive seals are a few examples of these application areas. In addition, expansion in the construction and automotive sectors in China, Indonesia, and India is anticipated to increase demand for polymers. This is also attributable to its excellent mechanical strength, low coefficient of friction, superior electrical characteristics, and resistance to heat distortion.
The expansion of this market in the Asia Pacific area is being driven by the expanding economies of Southeast Asian nations, rising disposable income, simple accessibility of raw materials required to produce plastics, and rising population. The increased consumption of petrochemicals and plastics used primarily for packaging in the food and beverage industries, as well as the rising demand for environmentally friendly alternatives to conventional plastics from developing countries like China and India, all contribute to the market's expansion nationwide over the course of the forecast period.
Report highlights
On the basis of product typethe thermoplastics segment will have a larger market share in the coming years period, the amount of revenue generated through the use of this product will grow well in the coming year. The nature of thermoplastic polymers can range from crystalline to amorphous. Although they often exhibit low strength, they have a somewhat bendable nature. Thermoset polymers are typically amorphous, strong, and stiff, yet frequently brittle. Elastomers are employed in applications that go above their glass transition temperature and are always amorphous. They have the remarkable capacity to elastically bend by very huge quantities without losing their shape permanently.
Thermoplastics dominate the market due to their reduced production costs, energy efficiency, ability to replace metals with considerable weight savings, and ability to be produced in extremely high volumes with high precision and at a cheap cost.
On the basis of base materialthe polyethylene segment has the biggest market share in the …
Full story available on Benzinga.com