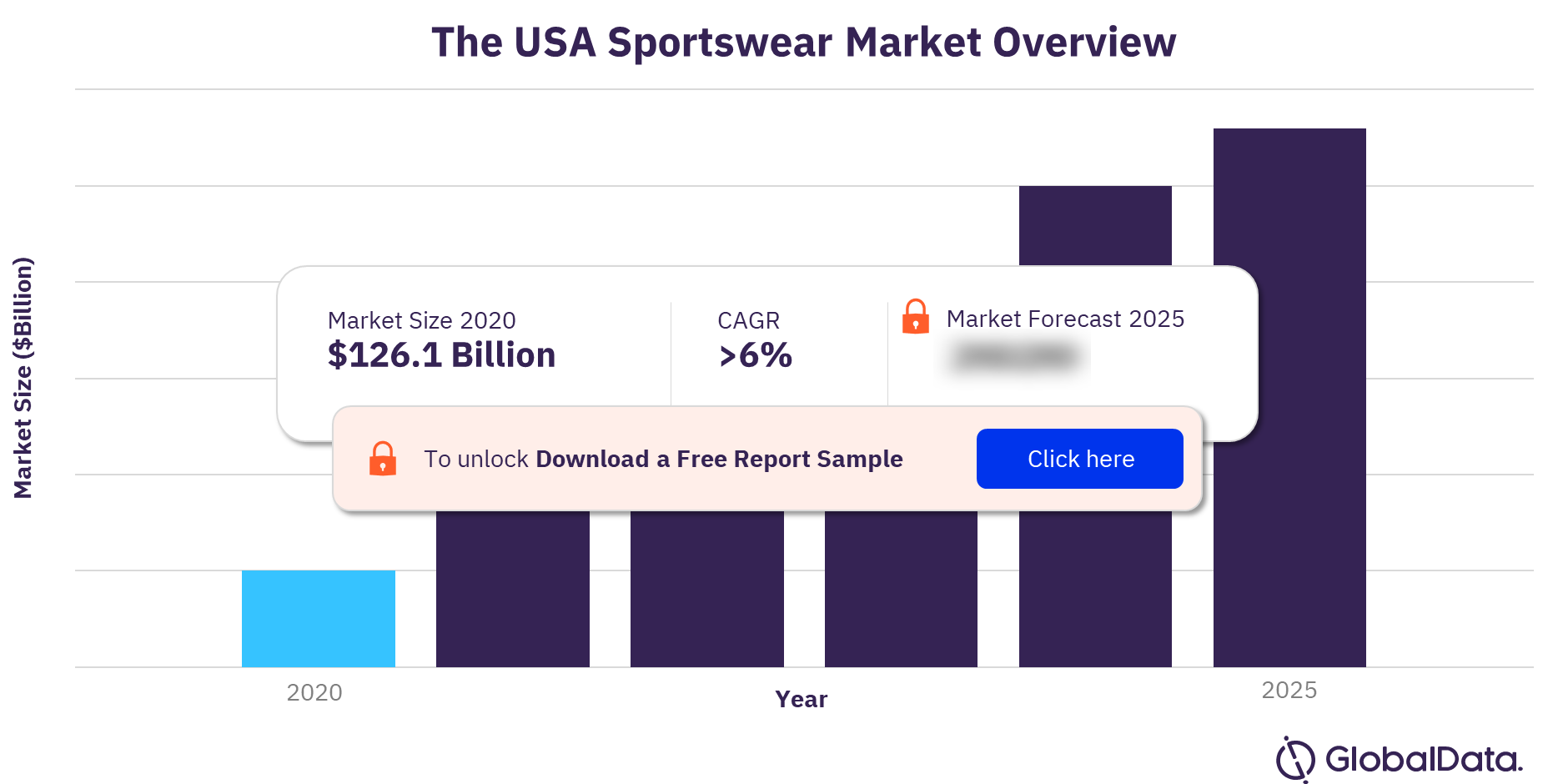 LONDON, July 05, 2022 (GLOBE NEWSWIRE) — The "United States of America (USA) Sportswear Market Size and Forecast Analytics by Category (Apparel, Footwear, Accessories), Segments (Gender, Positioning, Activity), Retail Channel and Key Brands, 2020-2025" report offered by Globaldata Plc provides both the historic and forecast market data of total sportswear sales in the USA. It also includes the impact of COVID-19 on growth. Moreover, it reveals major brands' share in the sportswear market with their price and market positioning in 2020.
The US sportswear market size was estimated at $126.1 billion in 2020 and is expected to grow at a CAGR of more than 6% during the forecast period. Sports clothing accounted for the largest share in 2020. Clothing, footwear & accessories specialists were the leading distribution channel in the USA sportswear market in 2020, followed by other online retailers and online specialists. Moreover, offline purchases are expected to dominate the USA's sportswear market during the forecast period.
To get comprehensive statistics on the US sportswear market sizing and forecast, download a sample report
US Sportswear Market – Key Highlights
The overall sportswear market in the US is forecasted to grow at a CAGR of more than 6% between 2020 and 2025.
The women's sports clothing segment will grow by more than 6% by 2025.
Trainers in men's sports footwear dominates the sales but shoes & boots are expected to be the fastest-growing category.
Nike led the overall sportswear market in 2020 followed by Adidas and Under Armour.
US Sportswear Market Segment Analysis by Category
Sports Clothing

Women's Sports Clothing
Men's Sports Clothing
Children's Sports Clothing

Sports Footwear

Women's Sports Footwear
Men's Sports Footwear
Children's Sports Footwear

Sports Accessories
US Sportswear Market Share, by Category
Download a sample report for detailed category insights on the US sportswear market
US Sportswear Market Segment Analysis by Distribution Channel
Clothing, Footwear & Accessories Specialists
Other Online Retailers
Online Specialists
Department Stores
Value, Discount, & Variety Stores and General Merchandise Retailers
Hypermarkets, Supermarkets & Hard Discounters
US Sportswear Market Shareby Distribution Channel
Download a sample report for detailed distribution channel insights on the US sportswear market
Leading Companies in the US Sportswear Market