On September 6, 2022, the 12th global edition of the World Cloud Show ? Qatar will convene experts in Cloud & Data Center technologies, alongside enterprises. Santiago Ba?ales?L?pez, Dr. Antonio Sanfilippo, Dr. Ahmed Darwish Elsayed and other eminent speakers will address the audience to discuss the need to investigate the possibilities of cloud-based solutions in Qatar.


QATAR, UAE, Sept 3, 2022 – (ACN Newswire) – The potential of the cloud and sustainable data centres is still far from being realised, as a consequence, Trescon's World Cloud Show is looking to help Qatar in its mission to enhance digital transformation . As the Official Cloud Sponsor of the World Cloud Show – QatarOracle is set to provide a major push to this agenda.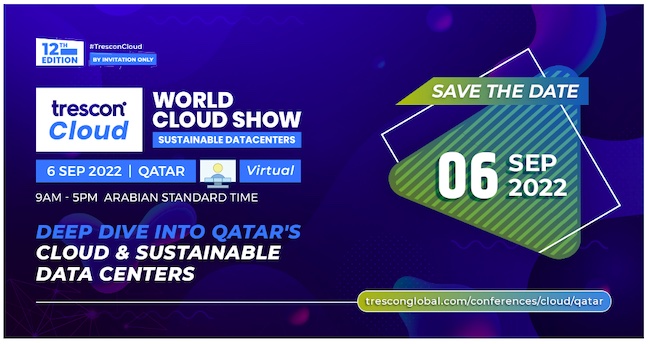 The event that is virtually taking place on September 6, 2022, will focus on the Qatari market, and will feature exciting keynotes, government and enterprise use-case presentations, product showcase, panel discussions and tech talks to discuss the latest challenges and explore the latest applications of cloud-based solutions.
"The combination of AI technologies and the IoT infrastructure within a data processing framework that integrates edge and cloud computing is key to the delivery of energy management platforms capable of addressing the complexities of hybrid power systems," said Dr. Antonio SanfilippoChief Scientist and Program Director at Qatar Foundation/Qatar Environment & Energy Research Institute.
Manish KhanijoManager – Technology & Security at Qatar Free Zone Authority stated, "Pandemic has accelerated digital and cloud adoption many folds. It is time that we accept data security in a borderless perimeter. With faster provisioning and limitless scalability, organizations can now focus on delivering more value to their customers and stakeholders. Easier access to data and omnipresent services require organizations to implement more …
Full story available on Benzinga.com