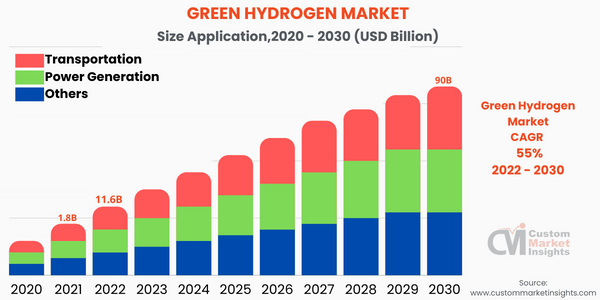 Sandy, Utah, USA, Nov. 20, 2022 (GLOBE NEWSWIRE) — Custom Market Insights has published a new research report titled "Green Hydrogen Market Size, Trends and Insights By Technology (Polymer Electrolyte Membrane (PEM) Electrolyzer, Alkaline Electrolyzer), By Application (Transportation, Power Generation, Others), By Distribution Channel (Cargo, Pipeline), and By Region – Global Industry Overview, Statistical Data, Competitive Analysis, Share, Outlook, and Forecast 2022–2030" in its research database.
"According to the latest research study, the demand for global Green Hydrogen Market size & share was valued at approximately USD 1.8 Billion in 2021 and is expected to reach USD 11.6 billion in 2022 and is expected to reach a value of around USD 90 Billion by 2030, at a compound annual growth rate (CAGR) of about 55% during the forecast period 2022 to 2030."
CMIs research report offers a 360-degree view of the Green Hydrogen market's drivers and restraints, coupled with their impact on demand during the projection period. Also, the report examines global opportunities and competitive analysis for the Green Hydrogen market.
Click Here to Access a Free Sample Report of the Global Green Hydrogen Market @ https://www.custommarketinsights.com/request-for-free-sample/?reportid=20867
Green Hydrogen Market: Overview
Green hydrogen is produced exclusively from sustainable resources. Gray hydrogen, which makes up 95% of the market and is produced by steam-forming natural gas, has substantially less CO2 than green hydrogen.
Using green hydrogen as a bridge, the green electricity or power can be transformed into transportation fuel or used as a feedstock in industrial applications. For example, market participants will be able to incorporate wind energy into the fuel tank of a container ship thanks to g Hydrogen and its derivative fuels, such as green ammonia. The decarbonization capability of renewable energy sources could thus be significantly increased by hydrogen.
(A free sample of the Green Hydrogen report is available upon request; please contact us for more information.)
Our Free Sample Report Consists of the following:
Introduction, Overview, and in-depth industry analysis are all included in the 2022 updated report.
The COVID-19 Pandemic Outbreak Impact Analysis is included in the package
About 220+ Pages Research Report (Including Recent Research)
Provide detailed chapter-by-chapter guidance on the Request
Updated Regional Analysis with a Graphical Representation of Size, Share, and Trends for the Year 2022
Includes Tables and figures have been updated
The most recent version of the report includes the Top Market Players, their Business Strategies, Sales Volume, and Revenue Analysis
Custom Market Insights (CMI) research methodology
(Please note that the sample of the Green Hydrogen report has been modified to include the COVID-19 impact study prior to delivery.)
Request Customized Copy of Green Hydrogen Market Report @ https://www.custommarketinsights.com/request-for-customization/?reportid=20867
Growth Factors
The demand for green hydrogen has increased significantly in recent years due to its capacity to reduce carbon emissions. It also aids in meeting the growing needs of the world. Its use is anticipated to increase because it is a long-term energy source. People become aware of the advantages of using hydrogen as an energy carrier, the global market for green hydrogen is anticipated to grow. Additionally, the business is driven by a rise in environmental concerns, emphasizing the necessity of producing clean energy to cut.
Additionally, as the use of nuclear and green hydrogen fuels rises, the green hydrogen industry is expanding. However, the primary factors restricting the expansion of the hydrogen industry are the initial investment necessary to build up the infrastructure and the prohibitive maintenance expenses.
Key questions answered in this report:
What is the size of the Green Hydrogen market and what is its expected growth rate?
What are the primary driving factors that push the Green Hydrogen market forward?
What are the Green Hydrogen Industry's top companies?
What are the different categories that the Green Hydrogen Market caterers to?
What will be the fastest-growing segment or region?
In the value chain, what role do essential players play?
What is the procedure for getting a free copy of the Green Hydrogen market sample report and company profiles?
Click Here to Access a Free Sample Report of the Global Green Hydrogen Market @ https://www.custommarketinsights.com/report/green-hydrogen-market/
Segmental Overview
The market for Green Hydrogen is segmented into technology, application, and distribution channel. Based on technology, Alkaline electrolytes accounted for the most significant revenue share of over 60% in 2021 since they are the conventional electrolytes hyjgen technology used inro green electrolyzer has a more extended operating period than PEM electrolyzers and uses sodium hydroxide or potassium hydroxide as its electrolyte. In contrast to PEM electrolyzers, which operate at temperatures between 70 and 90 degrees Celsius, alkaline electrolyzers have lower power and current densities and a more comprehensive operating temperature range of 100 to 105 degrees Celsius. Alkaline electrolyzes are also anticipated to rise in popularity since they are more readily available and less expensive than PEM electrolyzers.
In terms of revenue, the pipeline sector held around 60% of the global market for green hydrogen in 2021. Transporting green hydrogen is possible in various ways, including as a gas in high-pressure containers, a liquid in thermally insulated containers, a processed form such as methanol or ammonia, or a chemical carrier medium.
Key Offerings:
Market Share, Size & Forecast by Revenue | 2022−2030
Market Dynamics – Growth Drivers, Restraints, Investment Opportunities, and Leading Trends
Market Segmentation – A detailed analysis by Types of Services, by End-User Services, and by Regions
Competitive Landscape – Top Key Vendors and Other Prominent Vendors
Directly Purchase a copy of the Green Hydrogen report [220+ Pages] @ https://www.custommarketinsights.com/report/green-hydrogen-market/
Regional Overview
Due to large expenses made by European economies in the pursuit of an energy transition toward a clean hydrogen-based economy over the ensuing years, Europe accounted for a sizable revenue share in 2021. For instance, the UK government revealed a USD 14.8 billion plan investment in August 2019 for a project that is anticipated to utilize 4 GW of offshore wind to produce green hydrogen by 2030.
Due to the adoption of clean energy policies, North America is predicted to see a significant CAGR throughout the forecast period, with the US and Canada gradually growing the green hydrogen industry. gas or diesel-powered public transportation by 2040.
Report Scope
Full story available on Benzinga.com