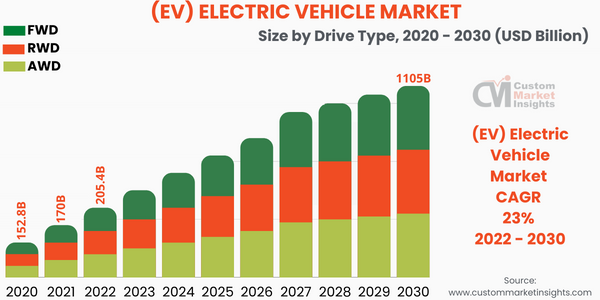 Sandy, Utah, USA, Oct. 24, 2022 (GLOBE NEWSWIRE) — Custom Market Insights has published a new research report titled "Global (EV) Electric Vehicle Market Size, Trends and Insights By Product (BEV, PHEV), By Vehicle Type (Private Vehicles, Commercial Vehicles), Vehicle By Drive Type (FWD, RWD, AWD), By Vehicle Top Speed ​​(< 125 mph, >125 mph) and By Region – Global Industry Overview, Statistical Data, Competitive Analysis, Share, Outlook, and Forecast 2022–2030″ in its research database.
"According to the latest research study, the demand for global Electric Vehicle Market size & share was valued at approximately USD 170 Billion in 2021 and is expected to reach USD 205.4 billion in 2022 and expected to reach a value of around USD 1105 Billion by 2030, at a compound annual growth rate (CAGR) of about 23% during the forecast period 2022 to 2030."
The report analyses the Electric Vehicle (EV) market's drivers and restraints and their impact on demand throughout the projection period. In addition, the report examines global opportunities in the global Electric Vehicle (EV) market.
Click Here to Access a Free Sample Report of the Global Electric Vehicle Market @ https://www.custommarketinsights.com/request-for-free-sample/?reportid=18580
(EV) Electric Vehicle Market: Overview
Low-emission technology used in electric vehicles aids in reducing greenhouse gas emissions and addressing other environmental problems. To reduce greenhouse gas emissions, several developing economies are choosing sustainable alternatives.
The demand for electric vehicles has increased due to growing worries about the pollution produced by conventional internal combustion (IC) engines, which has positively impacted the electric vehicle market.
(A free sample of the Electric Vehicle report is available upon request; please contact us for more information.)
Our Free Sample Report Consists of the following:
Introduction, Overview, and in-depth industry analysis are all included in the 2022 updated report.
The COVID-19 Pandemic Outbreak Impact Analysis is included in the package
About 220+ Pages Research Report (Including Recent Research)
Provide detailed chapter-by-chapter guidance on the Request
Updated Regional Analysis with a Graphical Representation of Size, Share, and Trends for the Year 2022
Includes Tables and figures have been updated
The most recent version of the report includes the Top Market Players, their Business Strategies, Sales Volume, and Revenue Analysis
Custom Market Insights (CMI) research methodology
(Please note that the sample of the Electric Vehicle report has been modified to include the COVID-19 impact study prior to delivery.)
Request Customized Copy of Electric Vehicle Market Report @ https://www.custommarketinsights.com/request-for-customization/?reportid=18580
Growth Factors
The sale of electric vehicles is projected to increase due to many government programs, including tax rebates, grants, and other non-financial perks like access to carpool lanes and subsidies. For instance, German automakers increased their cash incentives for electric cars in November 2019 to delay the switch from internal combustion to battery-powered engines to prevent hazardous emissions. In addition, the sale of electric vehicles has increased significantly in recent decades in nations including the United States, China, and several European countries; this, in turn, will help the industry expand.
However, several key obstacles that impede market expansion include a lack of charging infrastructure, variances in assessing load, and a lack of standardization. Several regions, including China, Europe, the United States, Japan, Korea, and others, have varied standards for charging electric vehicles. To address this issue, certain electric vehicle manufacturers, like Tesla Inc., are concentrating on a worldwide standardization of the charging infrastructure.
Click Here to Access a Free Sample Report of the Global Electric Vehicle Market @ https://www.custommarketinsights.com/request-for-free-sample/?reportid=18580
Nevertheless, it is projected that increasing the use of electric vehicles in the public and commercial sectors will propel the market. For instance, the UK government approved 200 electric buses in 2020, intending to make all buses electric by 2025, which may reduce CO2 emissions by roughly 7,400 tonnes annually.
Segmental Overview
The market for Electric vehicles (EV) is segmented into product and vehicle types. The demand for commercial vehicles is anticipated to expand at the highest CAGR shortly. Due to rising fuel prices, tough immigration laws imposed by governments, an increase in independent delivery vehicles , and the addition of electric motorcars and cars, this market segment is expected to grow rapidly.
The government-imposed strict emigration morals, rising fuel prices, the growing abandonment of independent delivery trucks, and the growing abandonment of electric motorcars and vehicles all contribute to the segment's rapid growth.
Click Here to Access a Free Sample Report of the Global Electric Vehicle Market @ https://www.custommarketinsights.com/request-for-free-sample/?reportid=18580
Key questions answered in this report:
What is the size of the Electric Vehicle market and what is its expected growth rate?
What are the primary driving factors that push the Electric Vehicle market forward?
What are the Electric Vehicle Industry's top companies?
What are the different categories that the Electric Vehicle Market caters to?
What will be the fastest-growing segment or region?
In the value chain, what role do essential players play?
What is the procedure for getting a free copy of the Electric Vehicle market sample report and company profiles?
Click Here to Access a Free Sample Report of the Global Electric Vehicle Market @ https://www.custommarketinsights.com/report/electric-vehicle-market/
Key Offerings:
Market Share, Size & Forecast by Revenue | 2022−2030
Market Dynamics – Growth Drivers, Restraints, Investment Opportunities, and Leading Trends
Market Segmentation – A detailed analysis by Types of Services, by End-User Services, and by Regions
Competitive Landscape – Top Key Vendors and Other Prominent Vendors
Directly Purchase a copy of the Electric Vehicle report [220+ Pages] @ https://www.custommarketinsights.com/report/electric-vehicle-market/
Report Scope
Feature of the Report
Details
Full story available on Benzinga.com