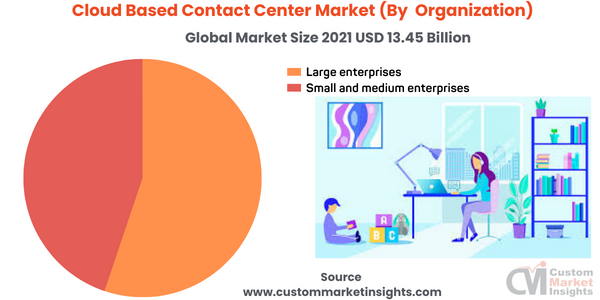 Sandy, Utah, USA, Nov. 13, 2022 (GLOBE NEWSWIRE) — Custom Market Insights has published a new research report titled "Cloud-Based Contact Center Market Size, Trends and Insights By Component (Services, Solutions), By Deployment (Private, Public, Hybrid), By Organization (Large enterprises, Small and medium enterprises), By End User (BFSI, Government, Telecommunication and information technology, Travel and hospitality, Retail and consumer goods, Entertainment and media, Others), and By Region – Global Industry Overview, Statistical Data, Competitive Analysis, Share, Outlook, and Forecast 2022–2030" in its research database.
"According to the latest research study, the demand for global Cloud Based Contact Center Market size & share was valued at approximately USD 13.45 Billion in 2021 and is expected to reach USD 18.77 billion in 2022 and is expected to reach a value of around USD 60.77 Billion by 2030, at a compound annual growth rate (CAGR) of about 26.48% during the forecast period 2022 to 2030."
In recent years, cloud computing has been in great demand, expected to lead to market growth. Affordability, scalability, and flexibility are some factors that will help develop market growth. In addition, social media, mobile apps, voice, web chat, and video are the different types of channels used for customer communication, and transparent communication is enhanced due to the increased adoption of contact centers that use cloud-based systems.
Click Here to Access a Free Sample Report of the Global Cloud Based Contact Center Market @ https://www.custommarketinsights.com/request-for-free-sample/?reportid=18713
Market Dynamics
Drivers
To handle customer relationships, there is an evolution in contact centers. Increased use of multi-function units for managing customer relationships will help grow the market. The outbound calls, as well as the inbound calls, are collected in the contact centers through modern technologies . There has been an increased use of emails, chats, and web inquiries. Organizations' increased adoption of cloud technologies, social media, and analytics will help them achieve great results.
Business operations of various organizations are enhanced due to this technology, which shall promote market growth in the coming year. Increased use of the contact centers of virtual type or video calls will lead to the market's growth.
Restraints
Much critical information is available online in the digital world. Much sensitive data is also stored, and cybercriminals target all this information. When it comes to the handling of all of this valuable information about the customers, organizations take great precautions. Even though organizations make great efforts, cyber-attacks are very common. Cloud cyber-attacks have increased in recent years, which shall be a major restraint in the Cloud based Contact Center market's growth. Organizations have adopted robust solutions to enhance their security.
(A free sample of the Cloud Based Contact Center report is available upon request; please contact us for more information.)
Our Free Sample Report Consists of the following:
Introduction, Overview, and in-depth industry analysis are all included in the 2022 updated report.
The COVID-19 Pandemic Outbreak Impact Analysis is included in the package
About 220+ Pages Research Report (Including Recent Research)
Provide detailed chapter-by-chapter guidance on the Request
Updated Regional Analysis with a Graphical Representation of Size, Share, and Trends for the Year 2022
Includes Tables and figures have been updated
The most recent version of the report includes the Top Market Players, their Business Strategies, Sales Volume, and Revenue Analysis
Custom Market Insights (CMI) research methodology
(Please note that the sample of the Cloud Based Contact Center report has been modified to include the COVID-19 impact study prior to delivery.)
Request Customized Copy of Cloud Based Contact Center Market Report @ https://www.custommarketinsights.com/request-for-customization/?reportid=18713
Opportunities
One of the best opportunities provided in the market is that of customer service. Most organizations have increased their focus on delivering great customer service. It helps in increasing the revenue for the organizations. When it comes to specific services or products, a good experience is provided to the consumers, which will play an extremely important role in the market's growth. Improved customer feedback also offers great opportunities for the development of the market. Increased use of various technologies like artificial intelligence will also help the market's growth.
Challenges
Increased use of cloud technologies in recent years for most modern businesses has made it a little difficult the operation the industry. Many organizations have adopted cloud-based platforms to have flawless and innovative customer experiences. Even though it provides many benefits like constant innovation, reduction in cost, flexibility, and integrated reporting, it still happens to be a risky and complex job.
Meeting the demands of consumers through various channels becomes extremely difficult and complicated. If an organization fails to give good service to a consumer, there has also been an increased risk of this failure being amplified. All these reasons will be the major challenges to the market's growth.
Key questions answered in this report:
What is the size of the Cloud Based Contact Center market and what is its expected growth rate?
What are the primary driving factors that push the Cloud Based Contact Center market forward?
What are the Cloud Based Contact Center Industry's top companies?
What are the different categories that the Cloud Based Contact Center Market caters to?
What will be the fastest-growing segment or region?
In the value chain, what role do essential players play?
What is the procedure for getting a free copy of the Cloud Based Contact Center market sample report and company profiles?
Click Here to Access a Free Sample Report of the Global Cloud Based Contact Center Market @ https://www.custommarketinsights.com/report/cloud-based-contact-center-market/
Report Highlights
Based on the component, the solution segment is expected to have a larger market share in the coming years. The increased use of managed and professional services has increased, and the market is expected to grow well. In addition, increased IVR, CTI, and ACD will provide good opportunities for market growth.
Based on Deployment, the public segment is expected to have a larger market share in the coming year. As the cloud-based system is lower in cost, many vendors have adopted this model. In addition, maintenance services are also provided free of charge, which is a driving factor.
Based on Organization, large enterprises will have the maximum share in the coming years due to the increased use of advanced technologies. In addition, banking and financial institutions shall adopt cloud-based contact centers on a large scale due to the various benefits associated with their incorporation.
Key Offerings:
Market Share, Size & Forecast by Revenue | 2022−2030
Market Dynamics – Growth Drivers, Restraints, Investment Opportunities, and Leading Trends
Market Segmentation – A detailed analysis by Types of Services, by End-User Services, and by Regions
Competitive Landscape – Top Key Vendors and Other Prominent Vendors
Directly Purchase a copy of the Cloud Based Contact Center report [220+ Pages] @ https://www.custommarketinsights.com/report/cloud-based-contact-center-market/
Report Scope