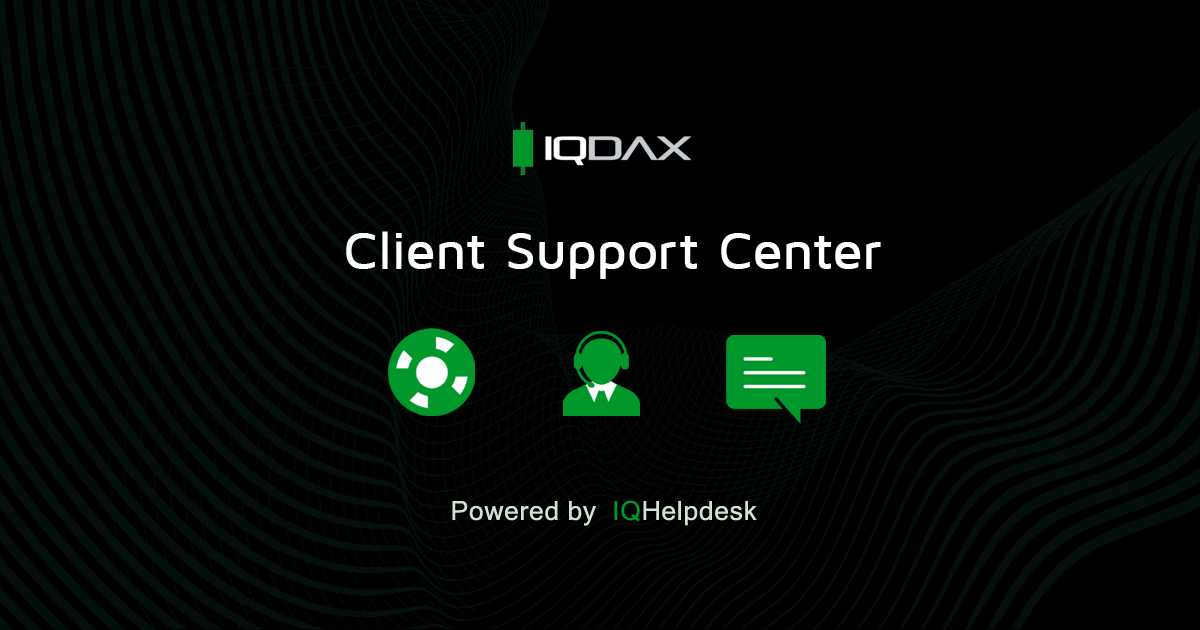 IQDAXOne of the most versatile trading platforms for retail traders, recently announced the integration of a customer support center to help traders and investors make informed decisions about their investment on the platform. The company also opened a dedicated blog that regularly publishes articles on industry-related topics and keeps customers informed about current events, important changes and trends.
IQDAX is one of the rare digital exchanges that unite multiple asset classes on one platform, including foreign exchange, stocks, CFDs and popular digital assets. Traders can easily enter buy and sell orders for popular cross-asset derivative contracts within a fraction of a second. The company has a powerful order matching engine, supported by a strong technical team, and even large cross-exchange market orders can be executed instantly.
Due to its ultra-fast trading capabilities and intuitive interface that is friendly to traders, IQDAX has recently achieved the feat of generating transactions worth more than 10 million euros as its daily trading volume. This is indeed a good start for a company that has only been established for five months.
IQDAX launches customer support center
IQDAX remains one of traders' favorite trading platforms and digital exchanges. The company's management team continues to announce various innovations and improvements to the platform, which has attracted the attention and admiration of a large number of customers every month, enabling customers to enjoy the margin trading of various digital assets such as stocks or currencies such as real-world assets and cryptocurrencies. All under one roof.
"IQDAX is a new participant in the field of digital asset trading, but our outstanding team of professionals and technical experts is working day and night. In order to further support our valued customers, we are integrating the customer support center and knowledge base into the platform and helping For beginners to understand the nature of stocks, foreign exchange and cryptocurrencies, we launched a dedicated trading blog. All we want is to always provide excellent services to our customers," said Sofia Rubio, IQDAX business development consultant.
She further added: "We hope that our support center can help traders obtain correct guidance and advice in a timely manner. We also aim to minimize the amount of margin trading error information available on other websites. We give priority to traders' Benefits, but it is also necessary to eliminate investors' fear of investing in cryptocurrencies and digital assets."
IQDAX has a large number of new and old traders. By publishing related blogs and articles, IQDAX will effectively educate existing customers and encourage potential traders to start using the platform at a faster speed.
By creating a blog, IQDAX aims to reach as many people as possible. Even people without any technical and financial knowledge can use the tips and suggestions provided by the IQDAX support center to start trading immediately.
About IQDAX
IQDAX is a leading digital asset trading and trading platform, founded by a team of financial industry professionals and technical experts who share a common vision: to provide retail traders with various experiences with a truly integrated multi-asset trading environment and empower them Take advantage of the unlimited opportunities in the world's major financial markets.
The platform provides a simple user interface for trading multiple asset classes. Both beginners and expert traders can take advantage of the same favorable trading conditions. The launch of its dedicated blog and knowledge resource center may further help traders and investors while making informed decisions about their investments.
IQDAX does not charge customers any commissions and provides low spreads so that traders can maximize their profits. The spreads provided by the platform are among the best in the industry, starting from 0 points, making it easier for traders to achieve profitability.
Create an IQDAX trading account for yourself in just 2 minutes. Once you become an IQDAX customer, your account will receive 100 Euros, and after your first transaction on IQDAX, you will also be eligible to earn a welcome bonus of up to 7,000 Euros.
Visit the platform at https://www.iqdax.com/
Media details-
Company: IQDAX
Email: [email protected]
City: Sydney
Country: Australia
Source: CloudPress
Version number: 25022
Original Source >> IQDAX announces the launch of a customer support center to assist traders and investors
Content disclaimer:
Disclaimer. Under no circumstances will our public relations company be liable to you or anyone else for any direct, indirect, incidental, consequential, special or exemplary damages of any kind, including but not limited to, loss of profit or loss of advertising that occurred in advance. The possibility of such damages and the reasons for litigation on which any such claims are based, including but not limited to any claims caused by or related to any content, including, without and video, or in any advertising, sponsorship, endorsement, recommendation, The accuracy, reliability or legality of any statement made or omitted in opinions or other statements or comments related to products or services. Posts or articles distributed through the website