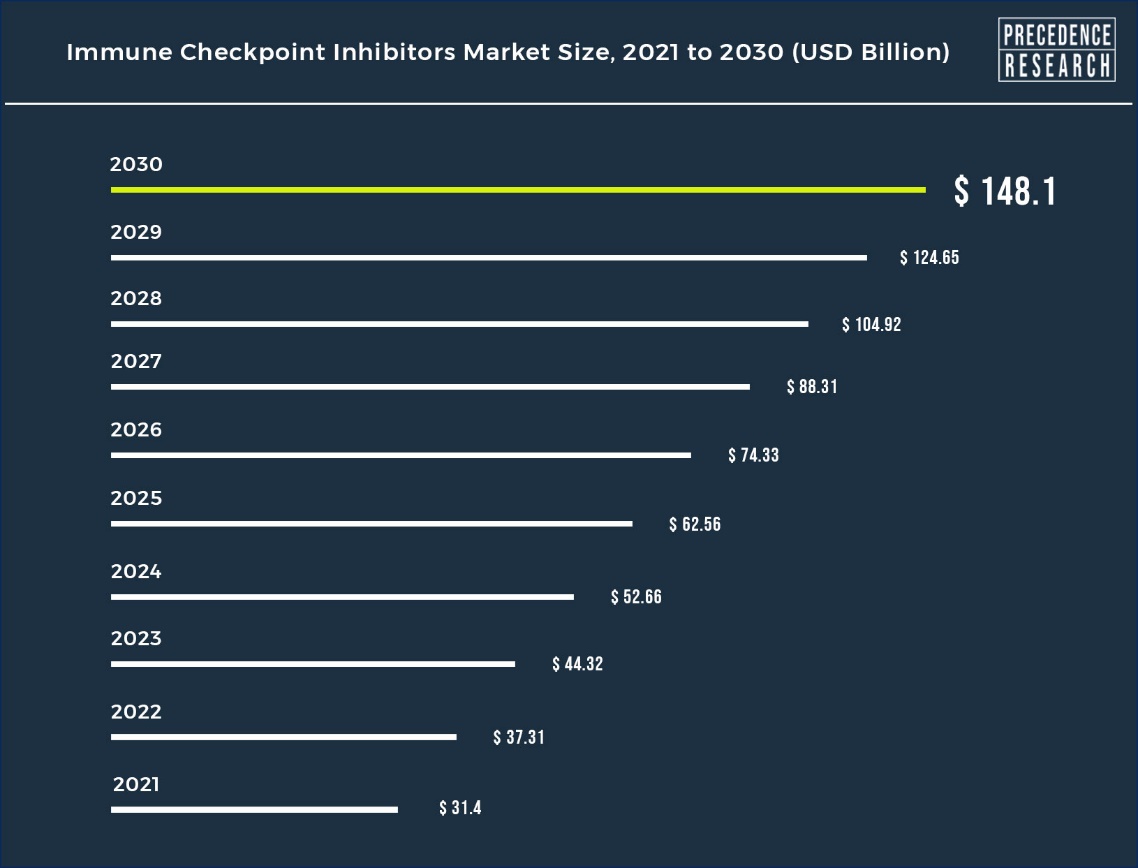 Ottawa, Oct. 29, 2022 (GLOBE NEWSWIRE) — The global immune checkpoint inhibitors market size was accounted at USD 31.4 billion in 2021. The immune system's task is to safeguard the body's healthy cells from invasion by foreign substances (such as bacteria and cancer cells). Immunotherapy, which includes checkpoint inhibitors, is effective in treating cancers like lung and melanoma skin cancer. When immune cells with the name T cells have certain proteins on their surface, the immunological checkpoints are activated (recognizers). These checkpoints also interact with companion proteins in other cells, such as malignant cells. As a result, these cells assist in preventing the immune system from eliminating cancer.
Get the Free Sample Copy of Report@ https://www.precedenceresearch.com/sample/2281
Market Growth
Areas of cancer are treated with radiation and surgery, and the field of oncology is broad and includes a variety of application areas. Chemotherapy typically circulates via the bloodstream to treat patients' entire bodies, and doing so is referred to as systemic treatment. Treatment for cancer cells helps patients' immune systems fight cancer more successfully. The top cause of death in the world is cancer. Immune checkpoint inhibitors thereby prevent the growth of cancer cells and aid in their detection by the immune system or cells.
Immune cells that must be activated and deactivated in order to initiate an immune response and prevent the immune system from being harmed are targeted by immune checkpoint inhibitor medications. Additionally, a number of well-known companies are funding clinical development through R&D investments. The checkpoint inhibitor pembrolizumab was the first FDA-approved drug solely based on the presence of a genetic characteristic in a tumor, and it is used to treat MSI-H and dMMR cancers. Immune checkpoint inhibitors are a growing market due to ongoing rivalry in the industry.
Regional Analysis
The market was dominated by the North American area in 2021 as a result of the increasing number of oncology patients. The expansion of new drug development for cancer treatment is receiving more government money and support. Additionally, an increase in research and development for new and innovative pharmaceuticals on the market is aiding regional growth. The market for immune checkpoint inhibitors is expanding as a result of the government's support of new drug development for the treatment of cancer.
Report Insights:
North America market has held 47% market share in 2021.
By type, the PD-L1 inhibitor segment has held 64% market share in 2021 and is growing at a CAGR of 16.8%.
By application, the lung cancer segment has accounted for 37.5% market share in 2021.
By region, Asia-Pacific region is poised to grow at a CAGR of 18.4% from 2022 to 2030.
Ask here for more customization [email protected] https://www.precedenceresearch.com/customization/2281
Scope of the Report
Full story available on Benzinga.com