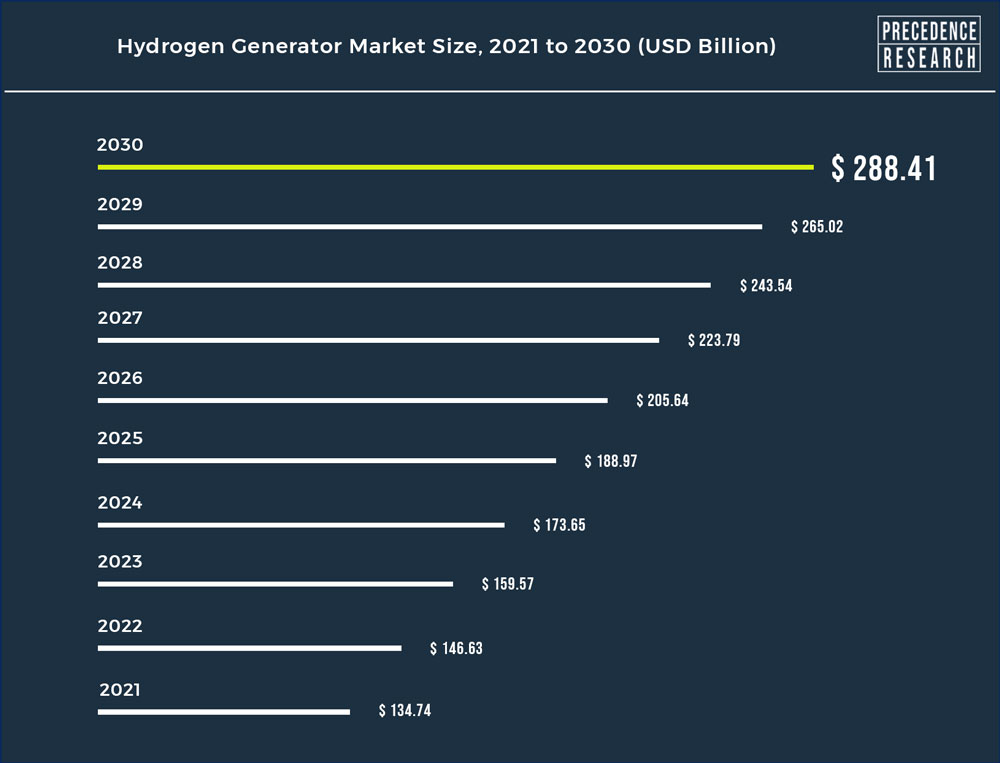 Tokyo, Nov. 20, 2022 (GLOBE NEWSWIRE) — According to Precedence Research, the global hydrogen generator market size will reach at USD 146.63 billion in 2022. A hydrogen generator is a device that creates hydrogen from water and fossil fuels using a number of techniques, including electrolysis and steam reforming. It produces high-grade hydrogen gas from water by using a proton membrane exchange In the beginning, NASA employed this technique to power spacecraft. Currently, hydrogen generators are used in a wide range of processes, such as chemical synthesis, fuel cellsrefinement, and petroleum recovery.
Get the Free Sample Copy of Report@ https://www.precedenceresearch.com/sample/2383
The hydrogen generators market is being driven by growing energy use, increased awareness of the usage of renewable fuel sources, and the quick depletion of fossil resources. Furthermore, it is anticipated that the market for hydrogen generators would be driven by strict emission rules that encourage The use of clean fuels like hydrogen instead of fossil fuels.
There is rising concern about carbon emissions and global warming. Governments from all over the world have put in place a variety of regulations and policies that demand a decrease in carbon emissions from different enterprises. During the electrolysis process, which yields wastewater hydrogen is into hydrogen and oxygen using electricity. Energy sources, either renewable or not, are used to produce power. For instance, governments all across the world are setting up electric public transit systems and building public infrastructure. A rise in the need for electrolytes is anticipated as the popularity of electric cars increases. Therefore, throughout the foreseeable period, these factors are anticipated to offer profitable chances for industry growth.
Hydrogenics Corporation was purchased by Air Liquide, a French manufacturer of industrial gases, for $20.5 million in January 2019. With this purchase, the Air Liquide business is able to reaffirm its long-term commitment to the hydrogen energy markets and its dominate the supply of carbon-free hydrogen, notably for the industrial and transportation sectors. Based in Canada, Hydrogenics Corporation develops and produces fuel cell and hydrogen generating systems using water electrolysis and proton exchange membrane technology.
Regional Snapshots
Due to the increasing demand for hydrogen for Fuel Cell Electric Vehicles, North America dominated the global market for hydrogen generators in 2019. (FCEVs). Additionally, the growth of auxiliary infrastructure like hydrogen fueling stations is anticipated to propelatord mark the rogenal The cost of renewable energy sources, particularly Solar PV and wind turbineshas been declining, which has led to a rise in interest in electrolytic hydrogen throughout the world. Throughout the anticipated period, this is anticipated to boost the North American hydrogen generator market.
Report highlights
In 2021, the Asia Pacific region has accounted for 41.50% market share in 2021.
In terms of revenue, the Asia Pacific hydrogen market is anticipated to develop at the highest CAGR, or roughly 7.2%.
According to market trends for hydrogen generators, the onsite category held the biggest market share in 2021 by product type.
In terms of capacity, the more than 1 KW sector held the highest share in 2021 and is anticipated to expand steadily during the foreseeable period.
The processing category had the biggest market share by application.
In 2021, the steam reforming process segment held the greatest market share.
The onsite hydrogen generators are poised to grow at a 5% CAGR.
By applications, the fuel cells segment is growing at a CAGR of 6%.
Ask here for more customization [email protected] https://www.precedenceresearch.com/customization/2383
Scope of the Report