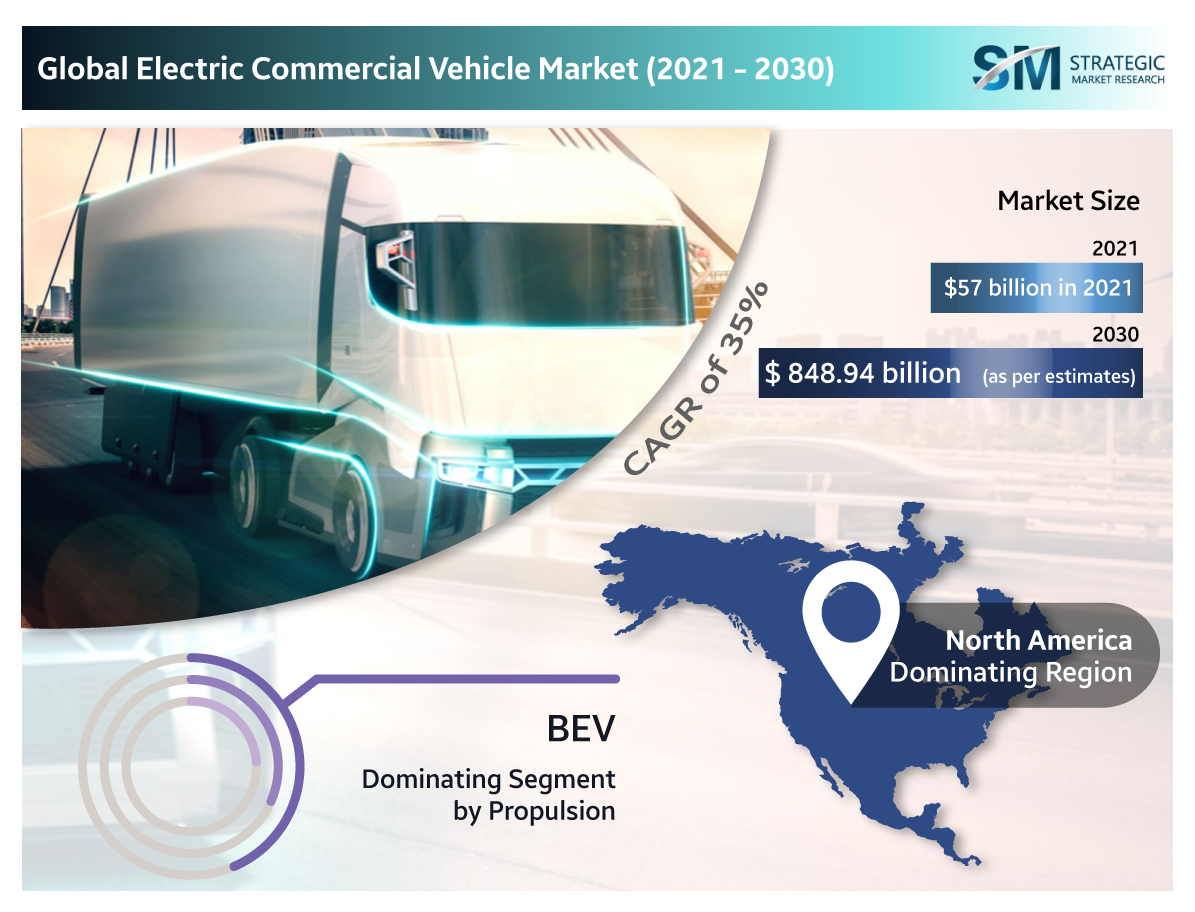 New York,USA, Aug. 27, 2022 (GLOBE NEWSWIRE) — The global Electric Commercial Vehicle Market size was USD 57.13 Billion in 2021 and will reach USD 848.94 Billion by the year 2030 with a 9.51% CAGR. The electric commercial type of vehicle is referred to as those that are exclusively powered by electricity instead of gasoline or diesel. Factors like a hike in fuel costs, an increase in demand for EVs, and the wide range of availability of the EVs at a cheap price are extensively augmenting the market growth.
To get a first-hand overview of the report, Request a Sample at
https://www.strategicmarketresearch.com/request-sample/electric-commercial-vehicle-market
Key Hhighlights of the Electric Commercial Vehicle Market:
The Electric-Van segment accounted for the maximum share of 40.26% for the Vehicle Type sector.
The Li-Ion Phosphate/LFP segment of the Battery Type section led the market with a share of 58.56%.
For Propulsion Type, the PHEV/ Plug-In Hybrid EV accounted for the maximum market share of 46.77%.
For the End-User section, the Last-mile delivery segment led the market growth with a 29.87% share.
For the Regional section, Asia-Pacific comprehensively dominated the market with a total share of 48.18%.
Factors Expediting the Electric Commercial Vehicle (ECV) Market growth:
(Rise in prices of fossil fuels, Lower cost of maintaineneceand the rise in government funding for the technological developments of ECVs are driving the overall growth of the market)
A major hike in the price of fossil fuels is one of the primary reasons augmenting the market growth. SMR's survey revealed that around 84.11% of automobiles across the world rely on fossil-fuels for their energy supply. Since the price of fossil-fuels has crossed its limits, the countries like Norway, Germany, USA, China, etc. are switching to renewable sources of energy, which has resulted in an increasing demand for ECVs, thereby propelling the market growth. Furthermore, SMR's study figured out that the price of fossil-fuels reached around USD 2.2 / million Btu ranging from 5.98 USD / million Btu for petroleum to 1.92 USD/ million Btu for coal.
Apart from a surge in fossil-fuel prices, the lower maintainenece costs of ECVs and rise in initiatives by the governments to spend more funds on the production of ECVs are enhancing the market growth. A research survey has discovered that the overall price of maintainenece for the ECVs is around (30 to 40) % less as compared to that of the IC vehicles. Moreover, SMR's research survey figured out that the worldwide governments have spent nearly USD 14.12 billion on the development of ECVs, which is around 25% higher compared to the previous year.
Electric Commercial Vehicle Market: 360-degree Segmentation Analysis
The worldwide Electric-Commercial Vehicle (ECV) Market is segmented into Vehicle Type, Battery Type, Propulsion Type, End-User & Geography.
For Vehicle Type
Electric Van
Electric Bus
Electric Truck
Others
For Battery-Type
Nickel-manganese-cobalt or NMC
Solid-state battery
Lithium-iron-phosphate or LFP
Others
For Propulsion Type
Plug-in-Hybrid EV (PHEV)
Battery EV (BEV)
Fuel Cell EV (FCEV)
Others
For End-User
Last Mile Delivery
Refuse Services
Field Services
Long Haul Transportation
Distribution
Others
For Geography
North-America
Mexico
USA
Canada
Rest of North-America
APAC or Asia-Pacific
Japan
New Zealand
China
Australia
India
South Korea
Malaysia
Singapore
Indonesia
Vietnam
Rest of Asia-Pacific
European Continent
Italy
Poland
Germany
Finland
France
Netherlands
Russia
UK
Spain
Norway
Sweden
Rest of Europe
Rest-of-World
South Africa
Kuwait
Brazil
Qatar
Algeria
Zimbabwe
Saudi Arabia
Argentina
Egypt
UAE
Nigeria
Make a Direct Purchase of the latest Electric Commercial Vehicle Market Report published in the month of July 2022. Click the below link to initiate the purchase:
https://www.strategicmarketresearch.com/buy-now/electric-commercial-vehicle-market
| | |
| --- | --- |
| Report Coverage | Details |
| Forecast Period | |
Full story available on Benzinga.com