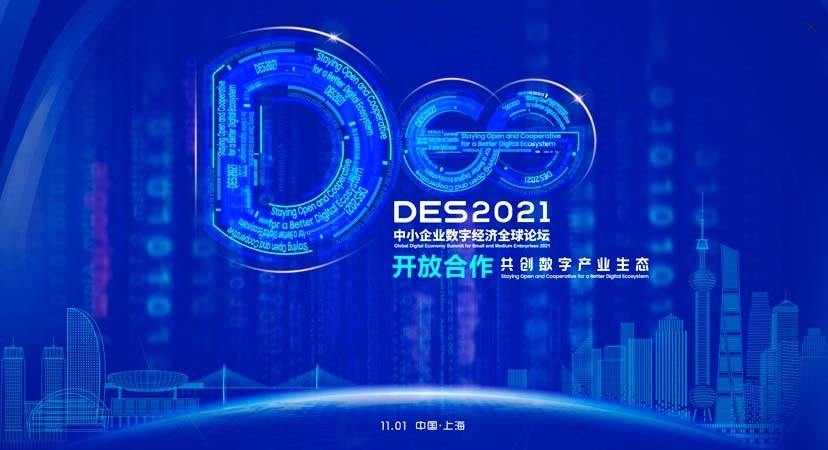 On November 1, sponsored by the China Association for Science and Technology, China International Science and Technology Exchange Center, Shanghai Science and Technology Commission, Shanghai Science and Technology Association, and Shanghai Yangpu District People's Government, the first domestic digital economy international exchange platform 2021 SME Digital Economy Global Forum Opened in Shanghai. Wu Qiang, founder and CEO of Anmaiyun, was invited to attend the "Digital Road: Promoting Global Collaboration" sub-forum, and delivered a keynote speech-forum "How to Build a Decentralized Cloud Computing Infrastructure to Help the Integration of Global Data Economy". He has an in-depth understanding of data, the core element of the digital economy, from a technical point of view. He introduced Anmai Cloud solutions for building new infrastructure construction to help global economic integration.
From the "farming tools + land" model in the agricultural era, to the "machine + capital" model in the industrial era, to the "information technology + data" model in the digital age, "the history of human development is the use of historical tools to improve the efficiency of production factors", Wu said. As the core production factor in the digital economy era, data represents the future. However, as far as the external performance of the current "data elements" is concerned, humans have more work to do in exploring the value of data. As Wu Yanzu said in his speech, more than 90% of data will be regarded as "valueless data" for a long period of time in the future, which is the result of various links after the data is generated. For example, people's understanding of data elements, the interaction of data elements with other production elements, new technologies empowering data elements, and so on. Among them, the lack of infrastructure can be said to be a "visible problem" in the manifestation and discovery of data value.
If the lack of data value mining limits the economic expression of data elements, then data security will restrict the market expression of the digital economy, thereby hindering the orderly advancement of economic globalization. Roger Wu said that after the human society enters the Web2.0 era, data is highly concentrated. In the era of mobile Internet, human beings have produced huge economic benefits by solving the problems of data production, connection and aggregation. The centralization of data usage has also brought about huge problems in data privacy, data property rights, and data circulation. In other words, if human beings want to maximize the value of data, they must first pave the way for data applications and thoroughly solve data security, privacy, and confirmation issues from the root.
In this regard, the use of cutting-edge technologies and concepts to build a strong infrastructure is particularly necessary to strengthen the expression of data elements, maximize the value of data, and promote global economic integration. Roger Wu said that as a key technology of the next-generation Internet, blockchain technology has natural advantages in ensuring data security, deconstructing data circulation models, protecting data privacy, and realizing data rights verification. The decentralized infrastructure formed through the blockchain architecture will also become the cornerstone of responding to changes in the digital economy and promoting global economic integration.
The data has completed its life cycle through "collection", "storage", "processing", "transmission", "exchange" and "destroy". How to grasp the core of data elements in a limited life cycle and tap its maximum potential has become a common concern for anyone who has succeeded in the era of shared digital economy. As a pioneer in implementing the concept of decentralization and deploying decentralized storage services in China, Anmai Cloud is no exception. After years of exploration, Anmai Cloud has built a complete set of business logic and product service system, which is a "3+1" distributed storage technology service system with "servers, platforms, toolsets + technical solutions" as the core. It was the first to be applied in medical, judicial, government affairs, integrated media, general health and other fields, and has withstood the test of the market. Data shows that Anmai Cloud currently accounts for 10% of the entire network's decentralized storage scale, and has initially achieved its strategic goal in the storage field.
In the future, Anmai Cloud will continue to focus on the core development strategy of the enterprise-innovative technology services, and provide enterprises, especially small and medium enterprises, with various distributed products and solutions based on the blockchain architecture. In this way, the digital transformation of enterprises is promoted and the wisdom of the industry is driven. This has laid a solid foundation for enterprises to join the international ecological regional cooperation circle.
Contact: Amy Zhang
e-mail: [email protected]
Website: www.anmaicloud.com
Source: CloudPress
Version number: 54186
Original story source >> DES2021 | Anmaiyun CEO Wu Zhiqiang: Focusing on digital elements, drawing a new blueprint for future infrastructure
There is no offer to sell, no invitation to buy, and no recommendation for any securities or any other products or services in this article. In addition, nothing in this PR should be construed as a recommendation to buy, sell or hold any investment or securities, or participate in any investment strategy or transaction. You are responsible for determining whether any investment, investment strategy, securities or related transactions are suitable for you based on your investment objectives, financial situation and risk tolerance. Regarding your specific business, legal or tax situation, please consult your business adviser, lawyer or tax adviser.