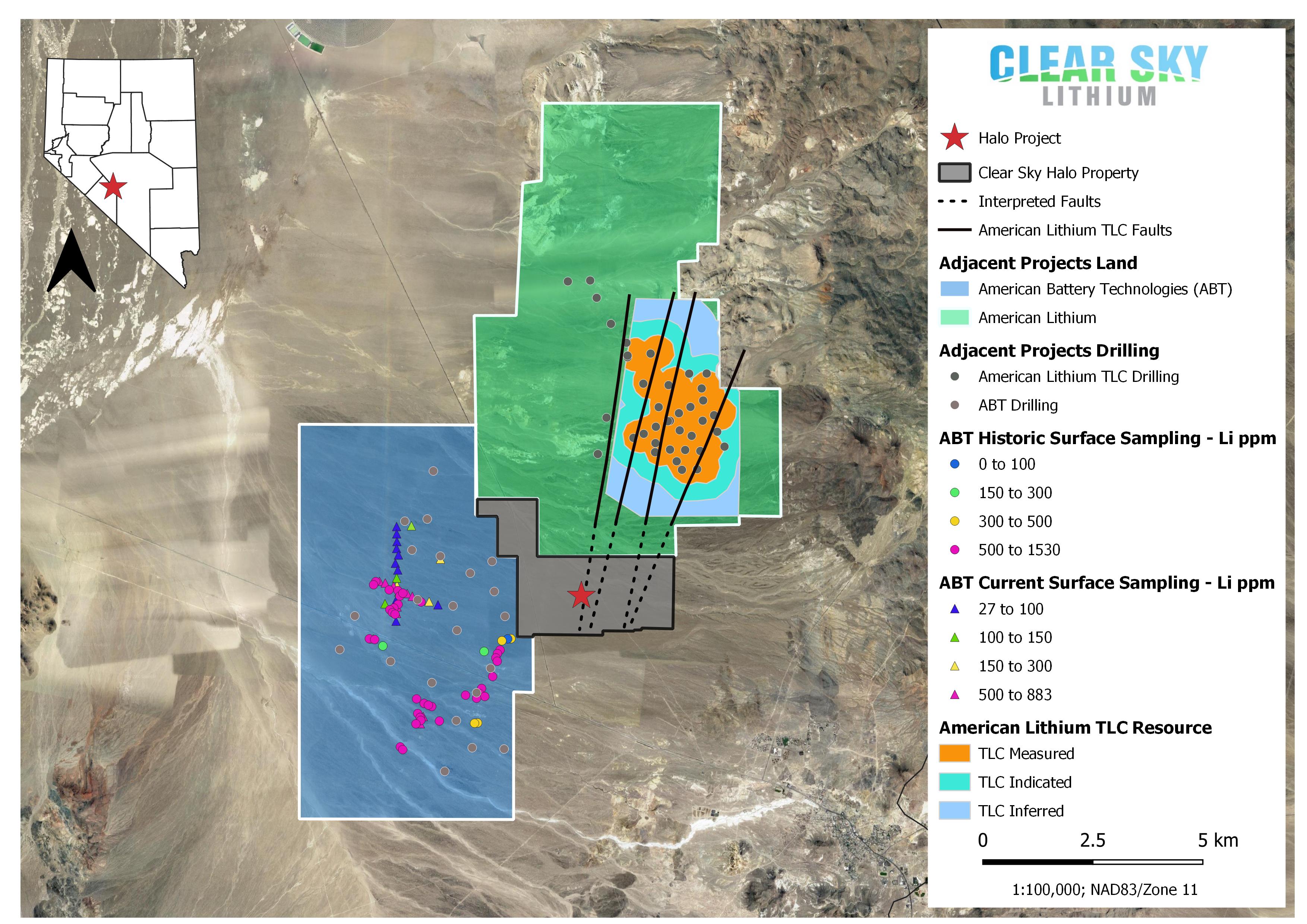 VANCOUVER, British Columbia, Sept. 22, 2022 (GLOBE NEWSWIRE) — Clear Sky Lithium Corp. (CSE:POWR) (FRA: K4A / WKN: A3DM2W) (OTC:CSKYF) ("Clear Sky" or the "Company"), a mineral exploration and development company focused on American lithium deposits to support domestic demand, is pleased to announce that it has initiated work on the Halo Project property.
Clear Sky has begun a Phase 1 workplan for the Halo Project to be undertaken by Tigren Inc. of Reno Nevada and is mobilizing for commencement of work in October. Tigren Inc. is controlled by Marco Montecinos, a director of the Company. The goal of the program is to develop an understanding of the Big Smoky Valley basinal alluvial cover within the Halo project land package via full surface grab sampling (where applicable) as well as surficial mapping of the claim area. The resulting data will be utilized to refine geological and metallurgical assessments to support phase 2 drill targeting.
Patrick Morris, Clear Sky Lithium's CEO notes, "Being directly in between two projects that are continually producing such positive results gives support that Clear Sky is in the right place with the Halo Project. We are excited to get our team on site to advance the project through foundational fieldwork and metallurgy. For now, it simply feels great to see our neighbours enjoying positive results, and we look forward to joining with them as we collectively move ahead to unlock asset value throughout the area."
The Halo Project (see figure 1), is comprised of ninety-eight mineral claims, located in Esmeralda and Nye Counties, and is considered prospective for claystone-hosted lithium mineralization. Positive news regarding exploration and development on adjacent properties to the north and southwest of the Halo Project have recently fueled enthusiasm for regional lithium exploration activities in the area.
Figure 1 – Clear Sky Lithium Halo Project Map displaying assay values ​​from adjacent properties (American Lithium's TLC project to the northeast and American Battery Technology Company's Tonopah Flats project to the southwest).
To the north of the Halo Project, on July 14th 2022, American…
Full story available on Benzinga.com