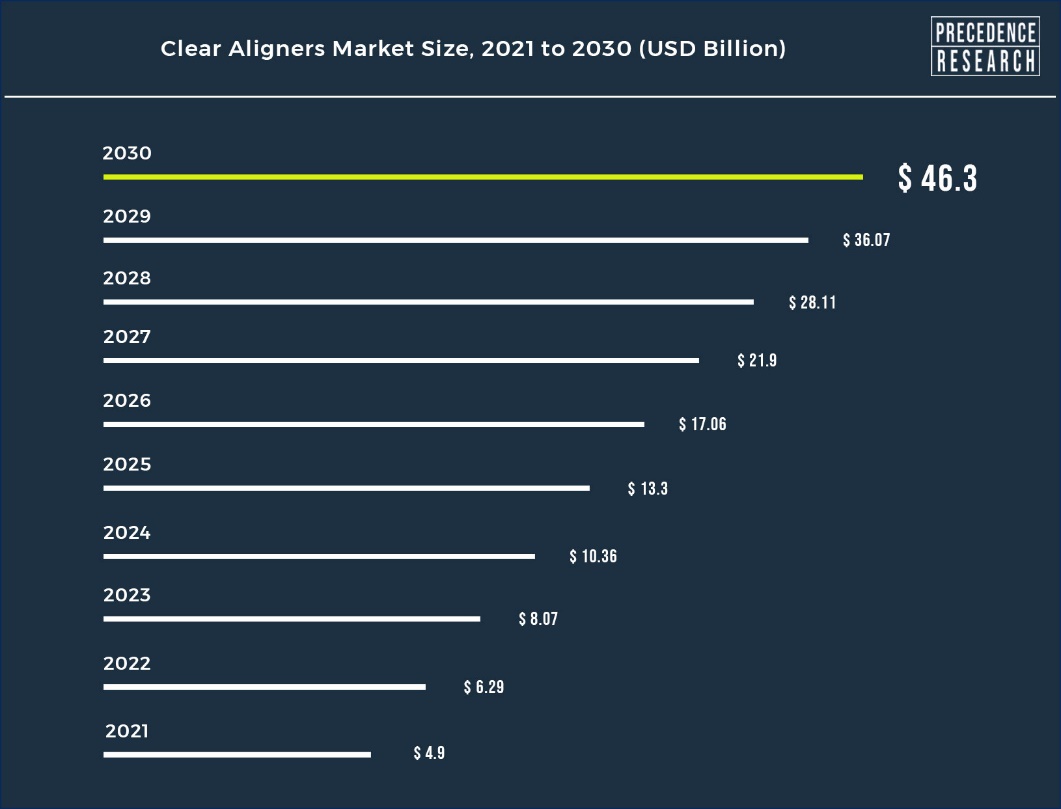 Ottawa, Nov. 23, 2022 (GLOBE NEWSWIRE) — Recently Announced Report on "Clear Aligners Market – Global Industry Analysis, Size, Share, Growth, Trends, Regional Outlook, and Forecast 2022-2030″.
Regional Ssnapshots
North American region has had a share of about 56% in terms of revenue in the past and they shall be the case even in the coming years period the amount of investments made in this sector for the research and development field has increased due to the availability of the global market players in this region. In the United States about 86% of the people consider dental health as an extremely important part of self-care. Most of the patients in these regions are extremely attentive for their smile and they want to improve the smile. Initiatives taken by the government bodies for creating development in the hygiene of the teeth will also play a significant role in the growth of this region. Beauty standards in the region will also propel the growth of the market during the forecast period.
Get the sample copy of the [email protected] https://www.precedenceresearch.com/sample/2263
Asia Pacific region will also show a significant growth in the coming years for the nations like China as well as India. Aesthetic appeal will play a significant role in the demand for clear aligners in the coming years. Most of the urban population in many countries of The Asia Pacific region considers the use of premium products for oral care.
Key Takeaways:
North America region has captured revenue share of over 56% in 2021.
The APAC market is poised to reach at a notable CAGR of 31.5% between 2022 to 2030.
By end user, the dental and orthodontal clinics segment accounted for 62% market share in 2021.
By age, the adults segment has garnered revenue share of around 67% in 2021.
By end use, the standalone practices segment has held 54% revenue share in 2021.
Report highlights
On the basis of the edgethe adult segment has dominated the market in the past with the largest amount of revenue generated through this segment. The cases of misalignment of the teeth are maximum in the adults and the availability of these procedures we will drive maximum population for such procedures. The demand for this product is expected to grow in order to improve the aesthetics. The use of this product will be maximum due to its function of improving the speech and swallowing.
In order to enhance the appearance of the face the demand for the therapy will grow maximum in the coming years period as the use of the clear aligners helps in increasing the convenience as well as the comfort the need for these products will grow well. of these products will be maximum in the standalone practices and this segment had a share of about 50% in the past in terms of revenue.
The availability of the practitioners in these setups that provide services and have technologically advanced equipment will prove to be an instrumental factor in the growth of the market. The waiting time for the procedures in these spaces are shorter as compared to the other places that offer the services. The use of good quality material will also play a significant …
Full story available on Benzinga.com