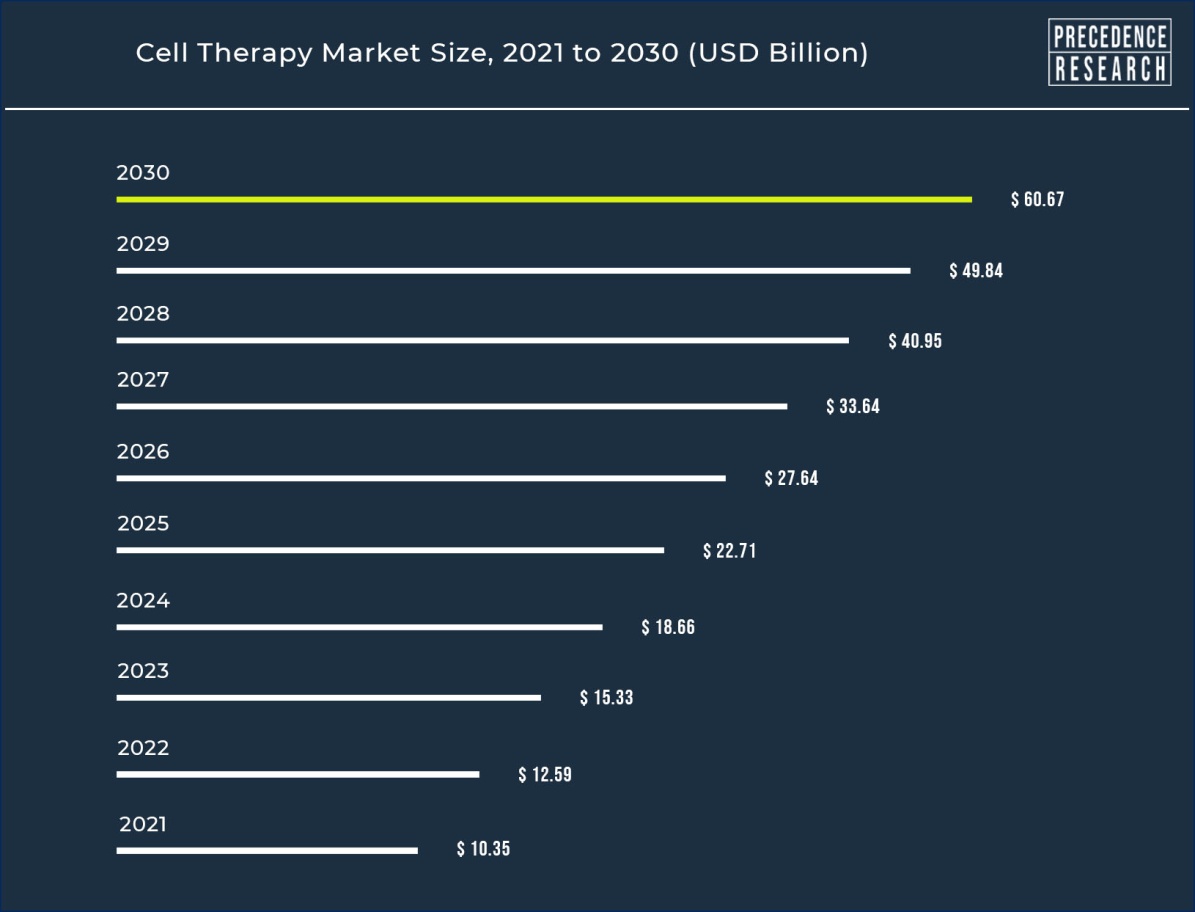 Ottawa, May 12, 2022 (GLOBE NEWSWIRE) — The global cell therapy market size was estimated at US$ 10.35 billion in 2021. The governments all over the world are constantly investing in the biopharmaceutical industry's development. This has a direct impact on the worldwide cell therapy market's growth. For the introduction of innovative cell treatments into the worldwide market, leading industry participants are partnering with government authorities.
Get the Sample Pages of [email protected] https://www.precedenceresearch.com/sample/1700
Furthermore, for the growth and development of the global cell therapy market, industry participants are focusing on existing and developing areas. The high cost of cell therapies, on the other hand, is a major impediment to the worldwide cell therapy market's expansion. Furthermore, the cell treatment market's expansion is hampered by a scarcity of experienced personnel. However, due to the vast range of applications for cell therapy, the worldwide cell therapy market is likely to rise rapidly in the near future.
Regional Snapshot
North America is the largest segment for cell therapy market in terms of region. The US is dominating the cell therapy market in the North America region. For the development of the cell therapy industry, variables such as rising chronic disease occurrences and increasing investments are important . Furthermore, expanding uses of stem cell technology for the treatment of various ailments are propelling the cell therapy market in North America. In addition, the market for cell treatment in North America is rising due to increased research and development activities.
Asia-Pacific region is the fastest growing region in the cell therapy market. China holds the highest market share in the Asia-Pacific cell therapy market. The expansion of the cell therapy market in this region is aided by favorable government policies. In addition, as a result of enhanced healthcare facilities, reduced costs, and rise in awareness of cell therapy, growing nations are expected to rise.
Scope of the Report
| | |
| --- | --- |
| Report Attributes | Details |
| Market Size in 2021 | |
Full story available on Benzinga.com