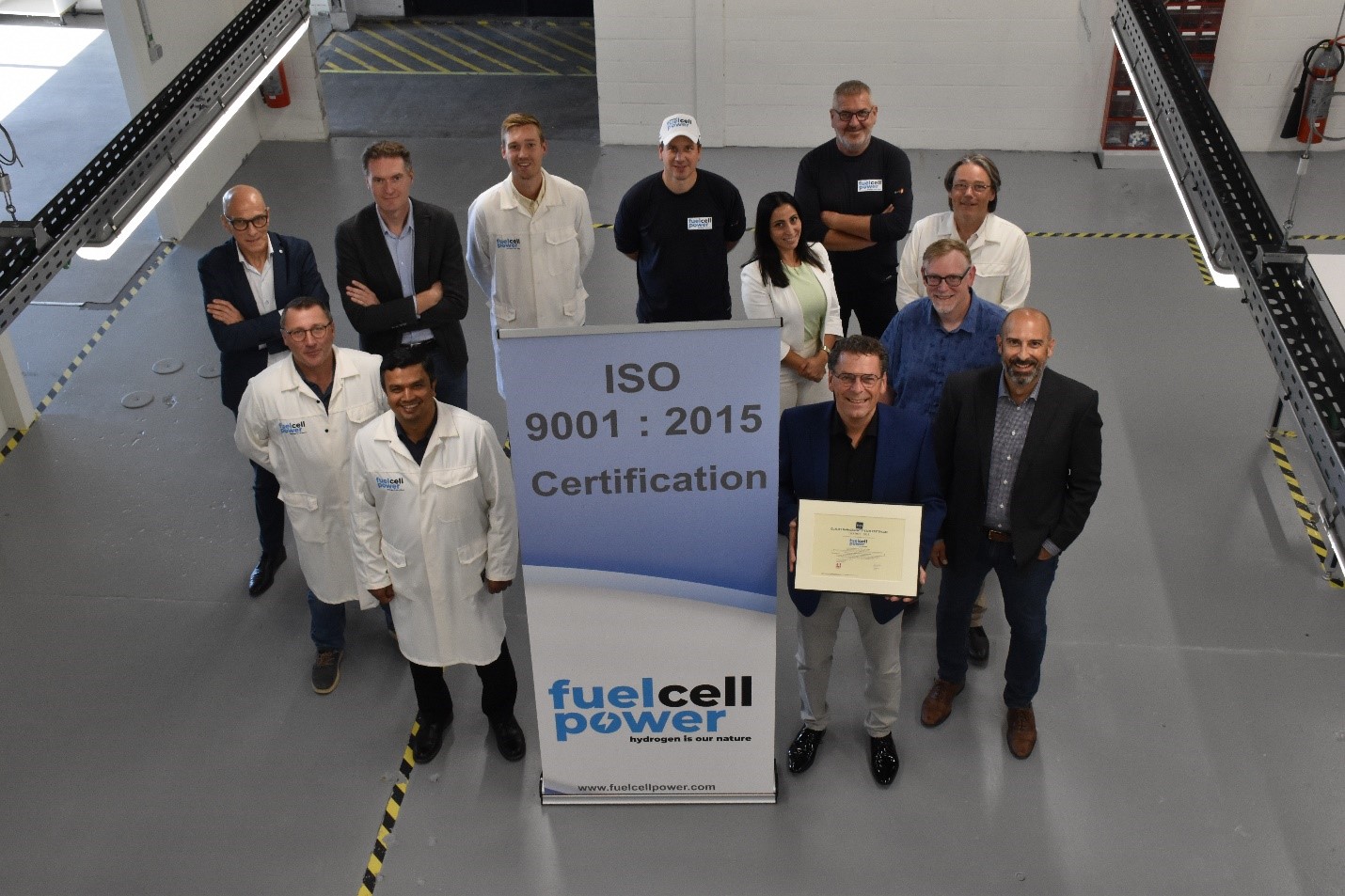 TORONTO, Sept. 07, 2022 (GLOBE NEWSWIRE) — Alkaline Fuel Cell Power Corp. (NEO: PWWR) (OTCQB:ALKFF) (Frankfurt: 77R, WKN: A3CTYF) ("AFCP" or the "Company")a diversified investment platform developing affordable, renewable, and reliable energy assets and cleantech, is pleased to announce that Fuel Cell Power NV ("FCP NV"), the Company's wholly-owned Belgium subsidiary, has earned ISO 9001:2015 certification for its quality management system from BQA NV in accordance with international standards from the International Organization for Standardization (ISO). The application field for FCP NV's certification is the development of alkaline fuel cells.
Figure 1- Fuel Cell Power NV staff gathers in Belgium for the ISO 9001:2015 certification announcement.
"Achieving the certification of ISO 9001:2015 quality management system is a reflection of the focus of the entire team to become best-in-class in the industry. The integration of this quality management system with customer demands and consumer needs, combined with pace -setting engineering is the perfect basis for achieving our goal to become a cost leader in our global operating environment," stated Jo Verstappen, Managing Director of FCP NV.
"I want to congratulate our Belgium team for this tremendous accomplishment; they have worked tirelessly to maintain our development schedule and expand our product development into fuel cell generators," stated Frank Carnevale, Chief Executive Officer. "Achieving ISO 9001 certification represents another key milestone in AFCP's journey, and provides important third-party validation of the Company's emphasis and unwavering commitment to reliability, quality assurance and safety."
About ISO 9001:2015
ISO 9001:2015 is a globally recognized quality management standard developed and published by the International Organization for Standardization (ISO). The certification provides a model for companies of all types and sizes to use in building an effective quality management system. The standard is based on…
Full story available on Benzinga.com