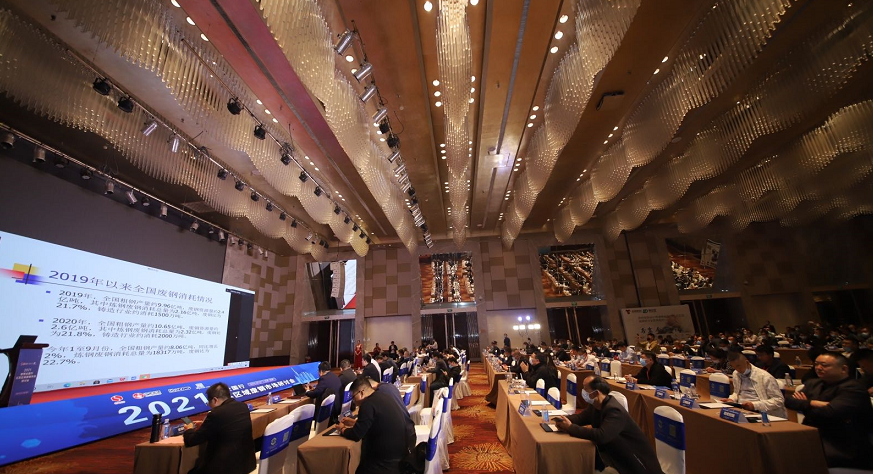 It is recognized in the industry that scrap steel is not all useless. As a reusable raw material, it has an increasing impact on the steel industry. October 27day, The 2021 National Scrap Steel Market Seminar-Jiangsu Regional Conference will be held in Xuzhou. As an emerging Internet service platform for the scrap steel industry, Lai Yue Regeneration was invited to attend the conference. Huang Jianxing, deputy general manager of Laiyue, accepted an interview with China.com.
Established in 2018, Laiyue Recycling has become one of the leading forces in the scrap steel industry after 3 years of rapid development. Up to now, its online transaction volume has exceeded 20 billion yuan, and the total supply of scrap steel has exceeded 10 million tons.
15 years ago, Huang graduated from Peking University with a degree in mathematics. With an excellent resume and strong skills, he has worked in China Telecom, Renren, etc., responsible for data research and development. Participated in a number of overseas projects. The products he leads have been released internationally in more than 10 languages ​​and have a large number of users, which has brought him reputation and benefits. However, four years ago, he just gave up his thriving business and devoted himself to the scrap steel industry.
"The pain points and difficulties of the scrap steel industry have severely restricted its development. Under the current system, it is difficult to achieve breakthroughs. As a technology enthusiast, this has inspired me to start my own business. In recent years, the Internet, blockchain, cloud computing The wide application of technologies such as, big data, etc. provides a technical foundation for solving the problems of the recycling industry. The digital transformation of traditional industries is an inevitable stage of the development of the Internet. I hope to use technology to empower and promote the development of the industry. This idea and my partners hit it off. After a period of research, the next month's regeneration was born." Speaking of the original intention of the next month, Lao Huang was very excited.
When asked if he regrets the transition from a "complex" industry to a "waste man", Huang said: "Frankly speaking, most of my classmates in those years became the backbone of Huawei, Tencent, etc. In contrast, I The scrap steel industry I chose is not so "mythical". It is often misunderstood by my family, as if what I do is no different from garbage collection. However, this does not hinder my determination and enthusiasm. I still aspire to let these technologies take root in traditional industries. , To bring them a new atmosphere, new energy, and new development.
In terms of carbon peak and carbon neutral targets, Huang said: "Among all manufacturing industries in China, the steel industry is the industry with the largest carbon emissions, accounting for about 15% of the total. Recycling 1 ton of scrap steel can reduce carbon dioxide emissions by 1.5 tons. , It can save 1.4 tons of iron ore and 740 kg of coal. Moreover, the energy consumed by 1 ton of scrap steel to produce steel products is only about one-third of the original process. Obviously, speeding up the comprehensive utilization of scrap can not only help steel The industry's cost reduction and efficiency increase will also help promote energy conservation and emission reduction. China is rich in scrap steel resources. It is estimated that the total amount will reach 30-320 million tons in 2025, and the total will reach 35-380 million tons in 2030. Carbon peak and carbon neutral And the goal is bound to boost demand for scrap steel. Iron and steel companies are also more motivated to use scrap steel as raw materials for smelting. Therefore, it is imperative to promote the transformation and upgrading of the scrap steel industry."
"On the one hand, the support of national policies, the needs of social development, the adjustment of industrial structure and many other favorable factors have indeed provided a good market environment and confidence for the development of the recycling industry. On the other hand, technological empowerment also enables the renewable resource industry Gradually change from extensive to standardized, intensive, and normalized. At present, it is a golden period for reshaping the renewable resource industry chain and ecological chain. We look forward to more new forces joining us to bring vitality and vitality to the recycling industry. Every An ordinary person will make his own commitment to this extraordinary era."
We are now living in a beautiful era, but also a creative era. There are people from all walks of life who are striving for dreams, with their original intentions, they will eventually witness the seeds of dreams from rooting to blooming and bearing fruit. Choosing the industry most needed by the market and society, and doing every trivial thing to the extreme, will it be extraordinary. The scrap steel industry is a sunrise industry that conforms to the development trend of the times. Its informatization is the need of the times and the needs of the situation. To be a "waste man" is also a dream chaser, beating with the pulse of the times.
China Net
Wang Pengfei
Source: CloudPress
Version number: 45383
There is no offer to sell, no invitation to buy, and no recommendation for any securities or any other products or services in this article. In addition, nothing in this PR should be construed as a recommendation to buy, sell or hold any investment or securities, or participate in any investment strategy or transaction. You are responsible for determining whether any investment, investment strategy, securities or related transactions are suitable for you based on your investment objectives, financial situation and risk tolerance. Regarding your specific business, legal or tax situation, please consult your business adviser, lawyer or tax adviser.